Why LifePage?
There are two approaches to finding which Career is best for you:
Inward looking skill based approach:
This is what Psychometric tests and Counsellors do. They look deep inside you to discover your hidden aptitude, skills and interests. And, then they suggest which Career will be best suited for you. The problem is: "you are a result of your experiences". If you were born like Farhan of 3 Idiots chances are that your brain was never exposed to anything except Science and Maths so all inward looking approaches will move in loops and suggest that you should become an Engineer.
Outward looking awareness based approach:
This is what LifePage does; we convert your infatuation to love. You saw a movie in which a lawyer drove a Mercedes and now you think you want to be a Lawyer. Great! First understand what is Law by watching a Career Talk of a real Lawyer. Then, do a Self Assessment to calculate your Dream Index in Law. Watch Career Talks on other Career options, do Self Assessments and introspect on your Dream Indices to decide which of your infatuations should be your Career choice.
LifePage App is a free tool for Self Introspection. Download it now!
---
LifePage Career Finder
With 1,252 Career Talks on 1,127+ Career options - LifePage is the largest knowledge repository of Careers in the whole world. It is wise to engage a dedicated
Career Advisor to guide you on how to make the best use of LifePage
.
Your Advisor will have an
initial phone discussion with you to understand your Career situation
and to accordingly suggest you some Career Talks on the LifePage App. Of course, you can explore more on your own too.
When you find a Career which you find interesting, you can have a
Career Discussion with your Advisor to ensure that you have properly understood the Career
and that your Dream Index is a true reflection of your chances of success in that Career.
After 5 Career Discussions, your Advisor will have a
final Career Selection Discussion
to help you understand your Dream Index Report and to help you choose a Career which is best for you.
Here is what you will get over and above the free LifePage App: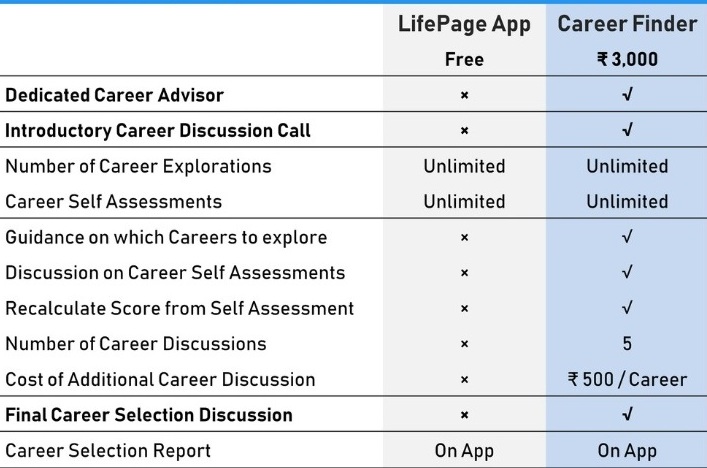 Here are all our Career Advisors,
do shortlist at least 3 Advisors
because not all may be available at the moment.
---