The root of every social and economic problem in India is our clerk producing
Indian Education system which systematically destroys one's ability to think independently
. This video explains why we feel so strongly about this phenomenon and how we are working towards guiding youngsters to stop following the herd and to start thinking independently.
So you have been preparing for IIT since you were in Class V and you feel that "thinking about your Career is a waste of time." You already know that you want to be an Engineer. By the time you finish school you will invest close to 1 Lac in additional tuitions and books. Then you will invest another 4 Lac in Kota. Then you will invest 10 Lac into your 4 year Engineering degree. And, finally after investing 15 Lac and 12 years of your life, you will ask "What should I do after Engineering?"
Don't run blindfolded on the path of failure and depression.
Before you jump back to your preparations. Ask yourself: Do I even know what kind of Engineer I want to be? Can I write a 20 line essay about "Life as a IT/Civil/Mechanical/... Engineer?" If not, take a week off, think, introspect and make a Career Plan for yourself.
Starting Class IX everyone has just one advise for you "work hard for your Board results". And, you start feeling that nothing else matters, even "thinking about your Career is a waste of time".
In real life no one cares about your Board results.
So if, after a lot of hard work you do not score very high in your exams. Relax, it will not matter anyways. The only thing which will really matter is how clear you are with your Career Plan.
You know which course you want to pursue after Class XII, hence you feel that "thinking about your Career is a waste of time". Think again. Can you write a 5 line essay on "What I will do for the rest of my life?"
Education is a means to an end; it is not an end in itself.
You need to choose a Career and be able to say 20 lines about it, only then you should worry about which Course and Stream will help you succeed in your chosen Career.
You feel that "thinking about your Career is a waste of time" because you should focus on your Board results else you will not get into a good college. Agreed, in a good college you may get placed relatively easily but remember your first job is the start of your Career not the end of it.
You need to prove yourself every single minute.
10 years from now, it will not matter which college you went to but what will matter is how good you are at whatever you do. If you end up doing the wrong thing, you will anyways not be successful. So, before you jump back to your tuitions and wasting time on your college fascination, focus on what is most important: "Where should I be headed?" And remember, it will not matter which college you go to, what will matter is what you learn in whichever college you go to.
No one ever asked you to think about your Career and possibly that is why you feel that "thinking about your Career is a waste of time". The Indian Education system ensures systematic destruction of independent thinking. You will be so pre occupied with the rat race that you are unable to think, even about yourself. The choice is yours, you may choose to be the so called educated and not believe what is logical. Or, you may declare:
My Life ... My Career ... My Decision
Once you as an individual start thinking about your own Career. We as a nation will have some hope that you will grow up and think about the country and society.
---
Is your focus ✘ or ✔?

Everyone wants to be happy and successful. However, you will find that most people are unhappy and frustrated. The single biggest factor for this is bad Career decisions. Almost everyone is conditioned to focus on the wrong things and in this scenario if you start working on the right things, it will be quite easy to win.
This is the time when you start taking decisions. Everyone around you will make you believe that success in life depends on good marks and good college. This is very far from true. Just ask your parents how many times anyone asked them about their Board marks and find the name of the college of the best doctor in your city. You will get your answers.
Since you did not think about your Career while at School, most likely you do not like what you are studying in College. Yet, you believe that by some miracle you will get a very good placement. You will not. And, if by fluke you do end up getting placed, you will be even more frustrated as on the very first day of your job you will realize that you wasted your time in college and now you do not have the skills to succeed.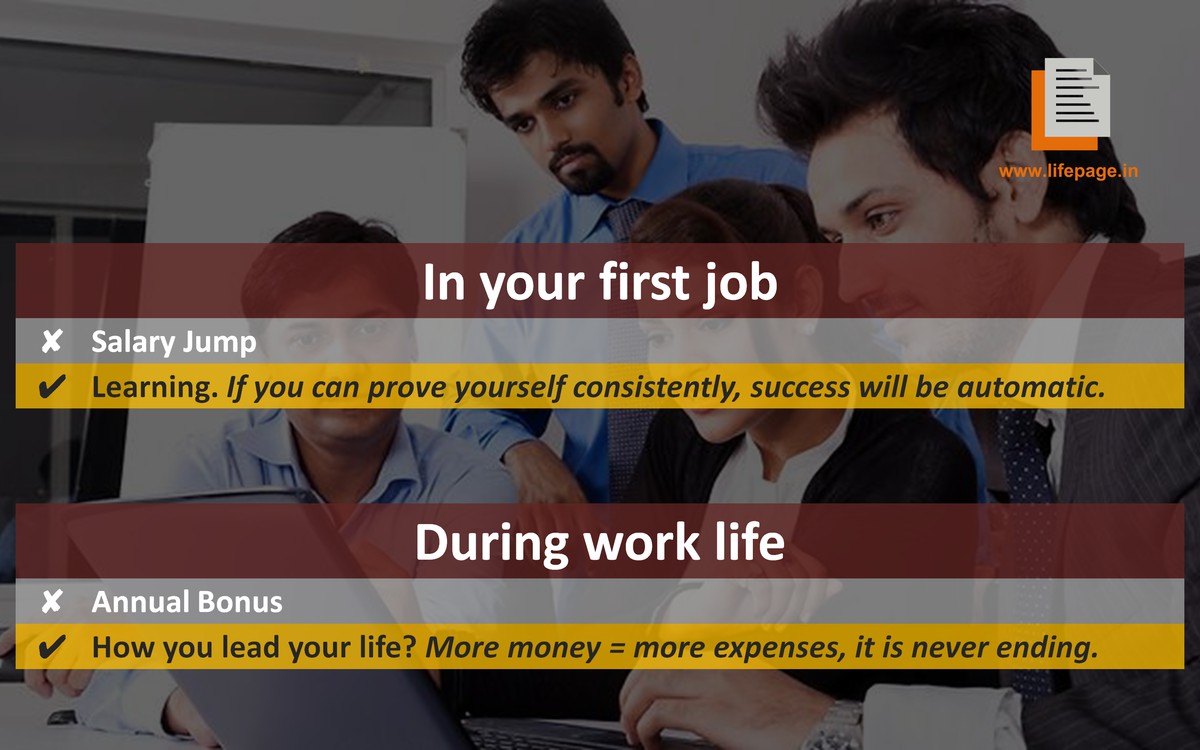 Definitely some of your friends will be earning more than you do. And, your single most important focus now will be to somehow increase your earnings. Looking for your next job will become your single most important priority. This will give you momentary happiness but after 5 jumps in 6 years you will realize now recruiters show very little interest in your CV.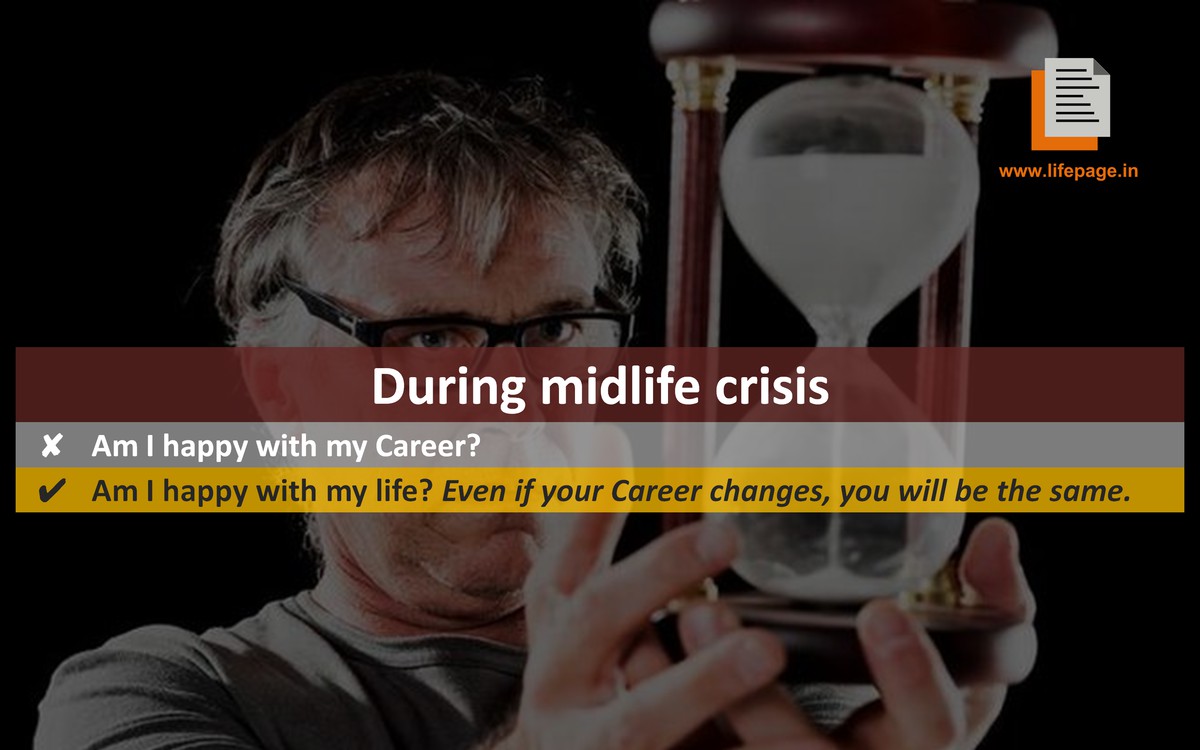 Finally you start thinking about what you really like. But now you are stuck. You are depressed why you did not listen to your inner voice, why did you blindly follow 90%, 90%, IIT, IIM, 5 jobs in 6 years when you really wanted to be a Chef. And in this sorry state of mind, you motivate your kids for 90%, 90%, IIT... That is what you should really be sorry for, you are pushing your kids on the same road which has led to your frustration.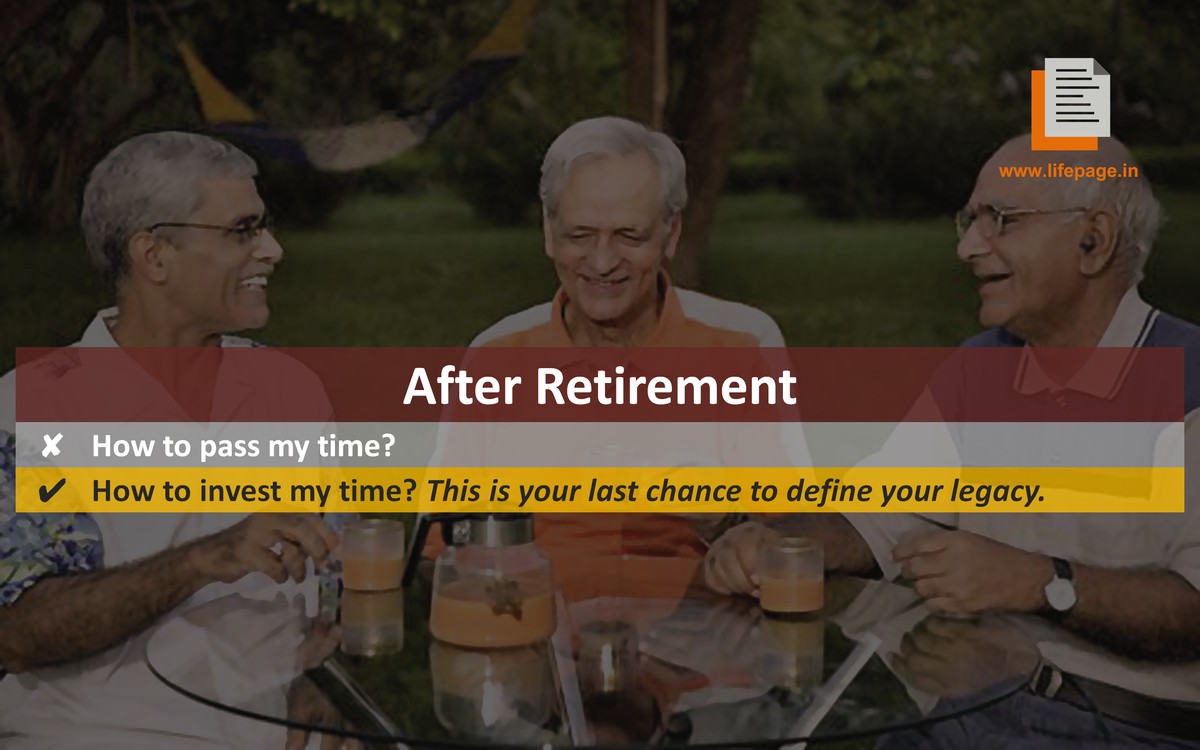 Now that you are retired and kids are settled, you feel the urge to live your life, to do what you always wanted. But now, your body and mind become weak, just getting through 24 hours a day becomes a task. You have life lessons, which you want to share but no one is interested in them. You cannot stop, you cannot allow yourself to recede, this is your last opportunity to define your legacy.
Logically this makes sense but the question is: How? How do I focus on what is right for me? How do I convince my parents, my family, my friends, my teachers and everyone else?

Remember "My Life ... My Career ... My Decision". Nothing else matters. Once you believe in this, more than half of your battle is won. Next, you need to find the right guidance and take concrete steps in a time bound manner.

Your LifePage Career Advisor can be your friend and guide in the process. Their professional and life experiences enables them to understand your situation and to help you realize your potential.
---