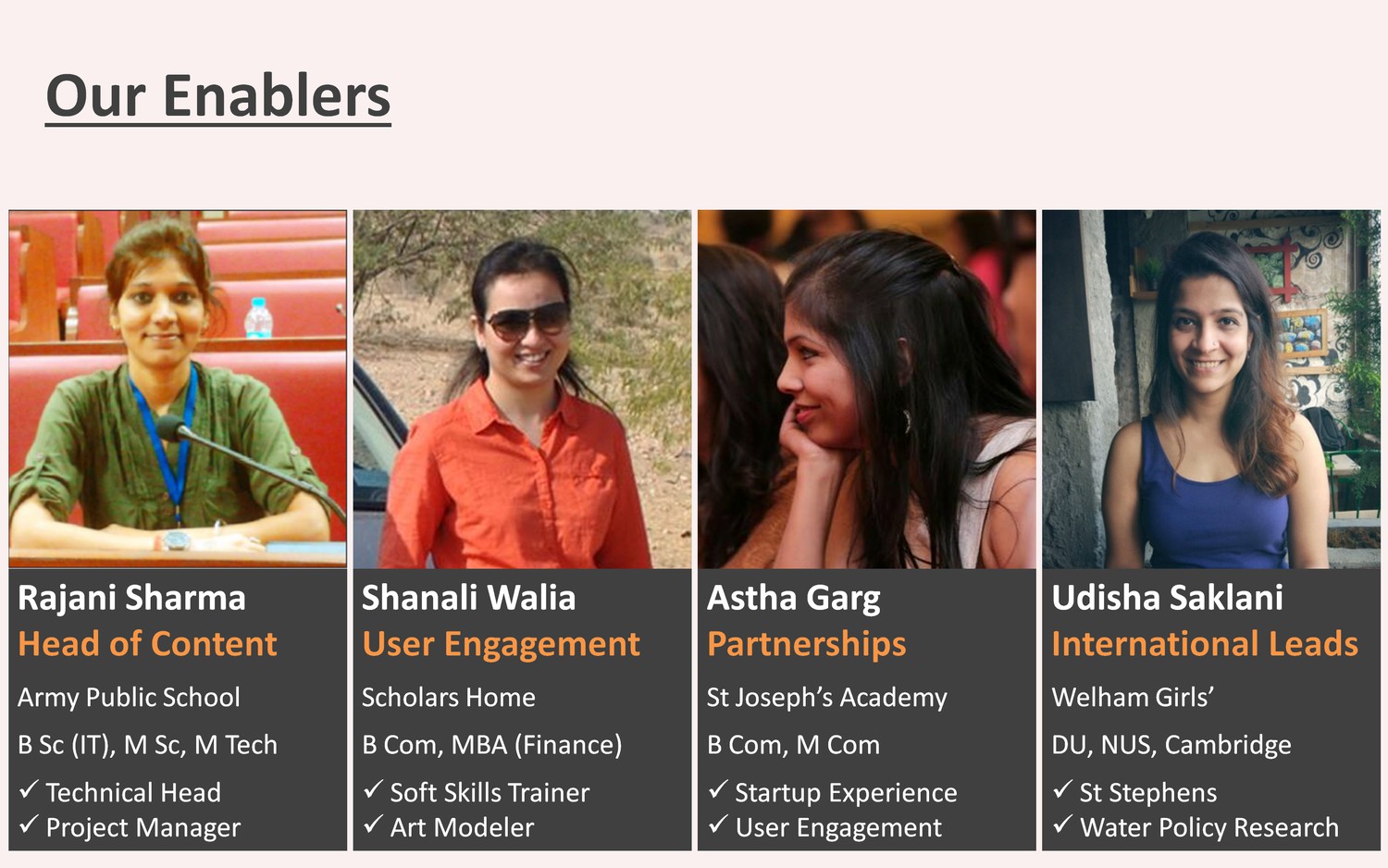 LifePage Career Advisors
[ 1 / 22 ]
Kapil Rawat
in Dehradun (Rajpur Road) - India
---
MBA - IESE Business School, Spain
MBA (Exchange Sem) - Ross Business School, Michigan, USA
MA Economics - Jawaharlal Nehru University, India
Cost Accountant - ICWAI, India
B Com - Lucknow University, India
Kapil started his career in Decision management with GE Corp in Bangalore and then moved on to Prudential Plc in London. Having gained 4 years of work experience he earned a scholarship to study MBA from IESE Business School in Barcelona which is ranked amongst the top 10 Business Schools in the world. After his MBA, Kapil started working with Citibank in New York as a Financial management Associate, he subsequently worked with Citibank in London, Dublin, New Delhi and Mumbai doing Innovation Management and Product Management.
At the age of 29, Kapil became one of the youngest Vice Presidents in Citibank and at the age of 33 he quit his corporate career to pursue his long cherished vision of helping students take smart career decisions. He is currently the Founder and CEO of LifePage.
[ 2 / 22 ]
Mamta Sharma
in Ghaziabad (Indirapuram) - India
---
BA & B Ed Utkal University
Masters in Environmental Communication - New Delhi
Green Belt Certification in Global Career Counseling - UCLA Extension
Mamta completed her schooling with Science. With a passion for Teaching she went on to earn a BA & B Ed from Regional Institute of Education Bhubaneshwar (Utkal University), which is a constituent unit of the NCERT, New Delhi and an institute of repute in the area of school and teacher education. Next she completed her Masters in Environmental Communication.
Mamta started her career as a Teacher. Her enriching involvement in teaching, under brands of repute, inspired her to empower other teachers and she moved on to Teachers' Training and Development. Career Counseling came naturally to her out of her passion to interact with and help students. Mamta is committed to guiding young minds into a more meaningful and enriching career exploration experience.
[ 3 / 22 ]
Vishakha Bhagnani
in Mumbai (Thane) - India
---
MA (Psychology) - IGNOU
Certified Behavior Analyst (PDA)
Associate Power Coach (CLI, Canada)
Communications Specialist
HR & OD Consultant
Vishakha Bhagnani is a Behavioral Analyst, a Life Skills Coach & Career Guide with over two decades of diverse experience across various corporate, consulting, and academic roles. She is a blogger and Personal Mastery enthusiast.
She blends her corporate and academic experience along with her acquired knowledge and skills to contribute to Personal Growth, Career Counselling, Mentoring, Executive Coaching, Organization Development Consulting for Organizations. She has worked across diverse industry domains like IT, Manufacturing, Facility Management, Education, and Training.
As a career coach, her focus has been to facilitate the choice of a suitable career path through self-awareness and exploratory research helping the coachee to connect with the 'why' of their choices. She has conducted workshops in the personal effectiveness space based on self-awareness, conversational effectiveness, power of collaboration, career orientation as well as process lifecycles such as performance management, HR for non-HR. In addition, she had designed and led several competency-based teacher development programs for various educational institutes.
Vishakha is also a visiting faculty at NMIMS (a leading management institute in Mumbai).
[ 4 / 22 ]
Jonaki Thomas
in Bengaluru (HSR/Sarjapur Road) - India
---
Psychologist
Professional Counsellor
Mindfulness Coach
Trainer
NLP Practitioner & Associate Life Coach
Emotional Intelligence Practitioner (Case Western University - USA)
M Sc Physics (Delhi University)
CAIIB
Jonaki is a Professional Counsellor and a Relationship Expert consulting with many reputed organisations. She has 18+ years of experience in both corporate & private industry in facilitating change. She enjoys working with adolescents, young adults, individuals & families and has a thriving practice.
Jonaki works closely with a Not-for-profit organisation in Meditational /Mindfulness Space.
[ 5 / 22 ]
Gurpreet Kaur
in Dehradun (Old Survey Road) - India
---
B Com - HNB (Garhwal) University
B Ed - HSS University, Allahabad
PG Diploma in Computer Programming & Application
Gurpreet has taught for over 15 years in various reputed schools of Dehradun. She is deeply committed to helping young children achieve their potential.
[ 6 / 22 ]
Late Madhubala Chaturvedi
in Dehradun (Dalanwala) - India
---
MA (Eng)
M Ed
LLB
Madhubala is deeply associated with education. She had been a successful English teacher for nearly 26 years since 1976. She worked in many different schools both private and public. Most of her career she worked with Kendiya Vidyalaya Sangathan. In 2000 she cleared a competitive exam for Principalship and was thereby appointed as a Principal of KVS.
As a teacher Madhubala had done a lot of innovative work in English teaching beside setting up the first language lab of KVS Dehra Dun Region. During her tenure of Principalship she was very successful as she always managed to get the best results in Dehradun Region. She directed many courses for teachers, developed teaching techniques and wrote innovative study materials. In2014, she retired from KVS and joined a private school as administrator. She continues to guide students by devoting her time as a LifePage Career Advisor.
[ 7 / 22 ]
Deepak Sharma
in Delhi (Dwarka) - India
---
BA - Delhi University, India
Post Graduation (Business Management) - ICFAI, India
Psychology - Center of Excellence (U.K)
Professional Coaching & Career Management - Laureate International Universities, U.S.A
Executive & Leadership Coaching - International Association of Professional Coaches, Counselors, and Therapists
Certified Life & Organizational Development Coach - ICF Approved
NLP P&C - American Board for Hypnotherapy and NLP (USA)
Emotional Intelligence & Design Thinking - NASBA (USA)
Certification (Yoga) - International Sivananda Yoga Vedanta Centre, Canada
Certification (Ayurveda) - Uttranchal Ayurvedic Medical College, India
Deepak Sharma is based out of New Delhi, he has been professionally active, consulting, giving Life Coaching & Trainings since 2000. He worked for diverse organisations, people and systems for 16 years. In 2016 he founded Deep Success Mantra Services which provides Wellness, Corporate, Skill Development & Career Services. He now practices as Professional Life Coach, Wellness Coach, EC-LC-ODC, NLP-P&C, Hypnotherapist, HR & Career Consultant, Mystic & Yogi, Writer and Traveler.
[ 8 / 22 ]
Pankaj Dixit
in Bengaluru - India
---
M Sc (Physics)
CAIIB (Certified Associate of Indian Institute of Bankers)
Professional Certified Coach from International Coach Federation (ICF)
Certified DISC Assessor
Pankaj held leadership positions in various Banking and Information Technology companies. He served many Fortune 500 organizations and led quite a few international teams. After his corporate stint, Pankaj transitioned into life and career coaching. Over the years he has coached several professionals and helped them achieve greater heights.
Pankaj is also actively involved with several NGOs and stat up businesses in the Bengaluru area.
[ 9 / 22 ]
Sushma Verma
in Bengaluru (Indiranagar) - India
---
B Tech (Chemical Engineering) - IIT Bombay
MBA (General Management) - IIM Bangalore
Sushma is an alumnus of IIMB and IITB by education, a career advisor by profession and a budding entrepreneur by passion.
After her initial experience with engineering and management roles, she has tried hands with various impact space ventures and has worked with impact startups along with volunteer roles to channelize her entrepreneurial and contributing spirit.
She is highly passionate about and a great fit for what LifePage is doing and how it is doing, this being one of the most critical and much-needed revolutions in the Indian professional ecosystem.
[ 10 / 22 ]
Dr Kshitiza Singh
in Dehradun (Rajpur Road) - India
---
B Com
M A (Economics)
Ph D (Economics)
GCC certification from UCLA
Dr. Kshitiza Singh comes to our team with a doctorate in Economics and a broad experience in various businesses and industries. Kshitiza began her career as an Economics Teacher and moved on to become Principal in a Hotel Management College. During her tenure, she not only led the institute to achieve academic records but also counseled her students to begin their careers.
In addition to this, Kshitiza brings us the experience of working closely with the top schools in the region. Her interactions with students and teaching body have enabled her to develop a unique insight into the world of education. Her dedication to her students and the energy she brings to the table endears her to students, teachers and parents alike.
[ 11 / 22 ]
Kiriti Sen
in Delhi NCR (Jalvayu Vihar) - India
---
B Sc
MBA in HR from XISS Ranchi
Certified Career and Life coach from Symbiosis Coach training USA
Life member National HRD network and Indian society for Training and Development
Director ( Community Service)
Internal Coach Fedaration Delhi Chapter.
Accomplished Senior HR specialist with 35 years of experience. Passionate about mentoring and coaching executives, students, entrepreneurs, home makers, NGO volunteers. Completed more than 200 hours of coaching practice with proven track record of successfully providing solutions for career challenges.
[ 12 / 22 ]
Puviarasi
in Puducherry - India
---
B Tech
M Sc (Psychology)
Puviarasi is a passionate educationist with an Engineering educational background in addition to a Masters Degree in Human Resource Management. In the span of 6 years she has been associated with educational institutions as a part-time Teacher, a HR trainer and a Career Advisor.
Being a person from a Tier-2 city of Pondicherry, She understands the typical sub-urban and rural students' and parents' mindset and approach towards education and career. This helped her in placing herself in the shoes of the person who needs guidance in finding their right career to pursue.
She is also a Writer and a blogger, who writes on Education and Social issues. Her purpose of life is simple, "Be grateful, be kind, share wisdom and spread smiles."
[ 13 / 22 ]
Aliya Patel
in Mumbai (Bandra West) - India
---
International Certified Career Counsellor
Counseling psychologist
Youth Coach
NLP practitioner
Aliya is a Career Advisor based in Mumbai. Aliya got interested in Career Advisory after her experiences as a parent. She is very motivated to helping youngsters take good Career decisions.
[ 14 / 22 ]
Pooja Jain
in Delhi NCR (Kaushambi, Ghaziabad) - India
---
B Sc (Statistics) & MBA (HR) - Pune University
Certified Career Counsellor (CareerGuide.com) & Parenting Coach
Certified Leadership Assessor & Behavioral Facilitator (TVRLS & MEHR – CAMI, USA)
Certification in Emotional Intelligence
Pooja is a passionate facilitator, Coach, curious listener and learner. She is driven by her vision to 'Facilitate Personal Effectiveness and Happiness through more meaningful and enriching career exploration experiences. She is driven to mentor and coach executives, students, entrepreneurs, home makers towards appropriate opportunities.
She has total 22 years work experience in the fields of Human Resources, Applied Behavorial sciences and Consulting. Her inclination led her to OD & Personal effectiveness area wherein she has been working on Leadership Assessments & Development, Talent Management etc. In 2013 she ventured into the world of Consulting and Coaching. Since then, Pooja has been working as both Leadership Assessor and a Career Coach and Mentor.
She comes with rich experience and blend from across verticals, industries and functions having worked with leaders, managers, professionals, students etc.
[ 15 / 22 ]
Ruchi Sharma
in Dehradun (Chakrata Road) - India
---
Graduation - Kamala Nehru College, Delhi
Ruchi Sharma was born in Aligarh and brought up in Delhi. She studied in New Green Field School, Saket. She did her graduation from Kamala Nehru College, Delhi. She has 10 years of experience in Behavioural Counselling.
[ 16 / 22 ]
Veena Krishna
in Mumbai - India
---
B A (Com)
Diploma (Management)
MA (English literature)
Veena Krishna did her Bachelors in Commerce and Diploma in Management Studies from Mumbai. Later in life, she did her MA in English Literature, through correspondence, while she was working.
She worked as the Deputy Editor at the broadcast station CNBC-TV18, a business channel for 15 years. Veena started off as a correspondent, moved to producing business shows and then to the post of Deputy Editor. During her tenure at CNBC she has traveled immensely interviewing entrepreneurs across the country and thus covered various industry sectors. That has helped her to understand the nuances of various business sectors and what is needed to succeed in an industry. Her longest show was Making It Big chronicling the success stories of entrepreneurs.
She quit her job in 2016 and is currently engaged in freelance writing work through her outfit CreativeSpeak. To know more check out www.creative-speak.com
[ 17 / 22 ]
Anurag Bharaktiya
in Indore (Mahalaxmi Nagar) - India
---
B.Com
MBA Export and Import Management from PIMR, Indore
Diploma in Career Counseling Psychology, CCPI, Nashik
NLP Practitioner, AFNLP
Founder- The PsyGenX Counseling Services, Indore, M.P.
Proudly following his passion in the field of education, he has been into counselling since past 8 years and has successfully been able to guide over 10000+ children as well as their parents.
Identifying the cognitive gaps and providing cognitive remedial programs to bridge the same has been his major forte.
[ 18 / 22 ]
Gaurav Dewan
in Delhi (Delhi -NCR) - India
---
He is a qualified architect registered with the Council of Architecture and Indian Institute of Architects and has been active in the field of architecture and design for the last 25+ years.
He completed his undergraduate course from Sushant School of Architecture in 1995 and then got an MBA degree subsequently.
He is one of the first CDP's from India – a Certified Design Professional from the ICSC- International Council for Shopping Centres, USA.
He is a member of RICS – Royal Institute of Chartered Surveyors, United Kingdom.
He is a Life Coach and a trained Life Page Coach.
He is a professional Vaastu Consultant and makes paintings in his free time.
[ 19 / 22 ]
Harminder Mehndiratta
in Dehradun (Balbir Road, Dalanwala) - India
---
BA English
Image, Style & Wardrobe Consultant (ICBI Chandiragh)
Soft Skills- Train the Trainer - NABET Accreditation (ICBI - Gurgaon)
Global Career Counselor
(UCLA Extension)
Green Belt (Univariety)
Harminder is an Image Consultant, Soft skills trainer and Career Counselor. She offers Image Management and Soft Skills Training services to School children, job seekers, corporate professionals who wish to grow - Personally and Professionally. A curious listener and always willing to learn, her passion is to motivate and help youth acquire better outlook of themselves through communication. She is an avid reader and is working on creating a smorgasbord of content on experiential learning exclusively for school children.
[ 20 / 22 ]
Maricela Suárez
in Cancún (Zona Hotelera) - Mexico
---
Bachelors in Business Administration
Master of Science in Human Resources Management
Master in Human Resources
Chief Happiness Officer, expected 2020
Fulbright Scholar
Maricela has been working for around 15 years in the fields of Talent Management, Human Resources, Education, and Business in global as well as family-owned organizations in over 10 countries in Latin America and the United States. She has created, implemented, and managed projects with local and regional scopes that resulted in people and business growth.
As a Talent Management expert, she helps individuals and organizations connect to their purpose and build a culture of accountability. She hopes to make the world a better place by creating exceptional workplaces, where businesses and people grow and thrive.
[ 21 / 22 ]
Punit Pandey
in Jaipur - India
---
AMPPP ( Advanced Management Program in Public Policy) , ISB Hyderabad
MBA (Kanpur University)
PG Certificate in CSR (IICA)
Management Graduate with 25 years of rich and diversified exposure in Project management / Consulting / Performance Coaching. His passion is in Education, Training and Skill Development where he has worked with organisations like ICFAI University, NIIT and EY (Ernst and Young).
Proven track record of mentoring young students and professionals.
[ 22 / 22 ]
Rehab Ali Elrefaei
in Cairo - Egypt
---
Bachelors (German Language) - Ain Shams University
Global Career Development Facilitator - National Career Development Association
Rehab is Career and Transformational Coach. Rehab started her Coaching Career in 2015 as a GCDF "Global Career Development Facilitator" working with SMART careers and the power of AM foundation.
As a coach she is helping individuals to get better idea of what they want to do and to overcome obstacles and to get better results depending on the individual's unique skills and needs.