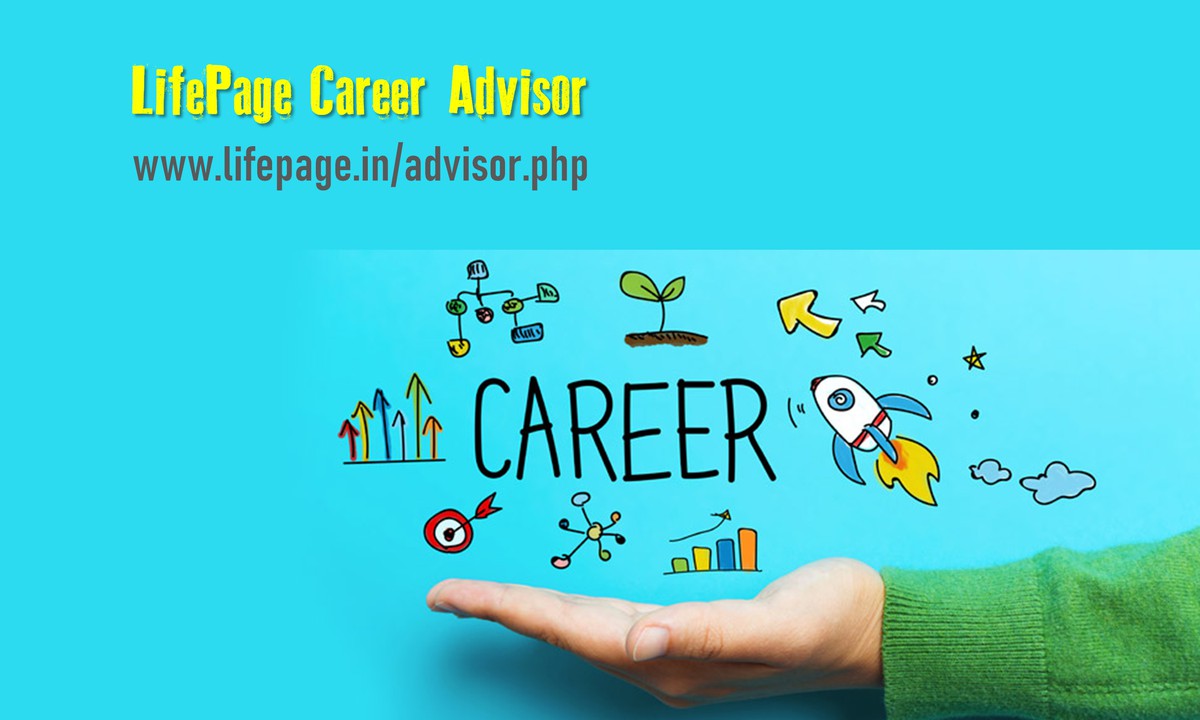 Welcome to LifePage!

LifePage is the world's most evolved Career platform. At LifePage, we believe that a smart career decision is 90% - Why I wish to do something and 10% - How I can do what I choose to do.

To address the Why a student needs to work on his or her Awareness. LifePage enables this through our free Android App, where students can access 1,127 Career Talks from real professionals on 902+ Career Options. LifePage Speakers provide a balanced view of their profession. This App has 119,177+ installs.

For the How: LifePage offers a paid personalized Career Plan program wherein a Career Advisor works with a student on the phone for 14 hours spread across 7 days to document:
1) Which Career is best
2) How to enter it
3) How to excel in it

Students are just too bogged down with Marks and Admissions. They do not realize that success in life actually depends on Planning and Preparation. Not just students, but parents and teachers too, need to start looking at Career choices from a completely fresh perspective.

Join us to be an agent of change.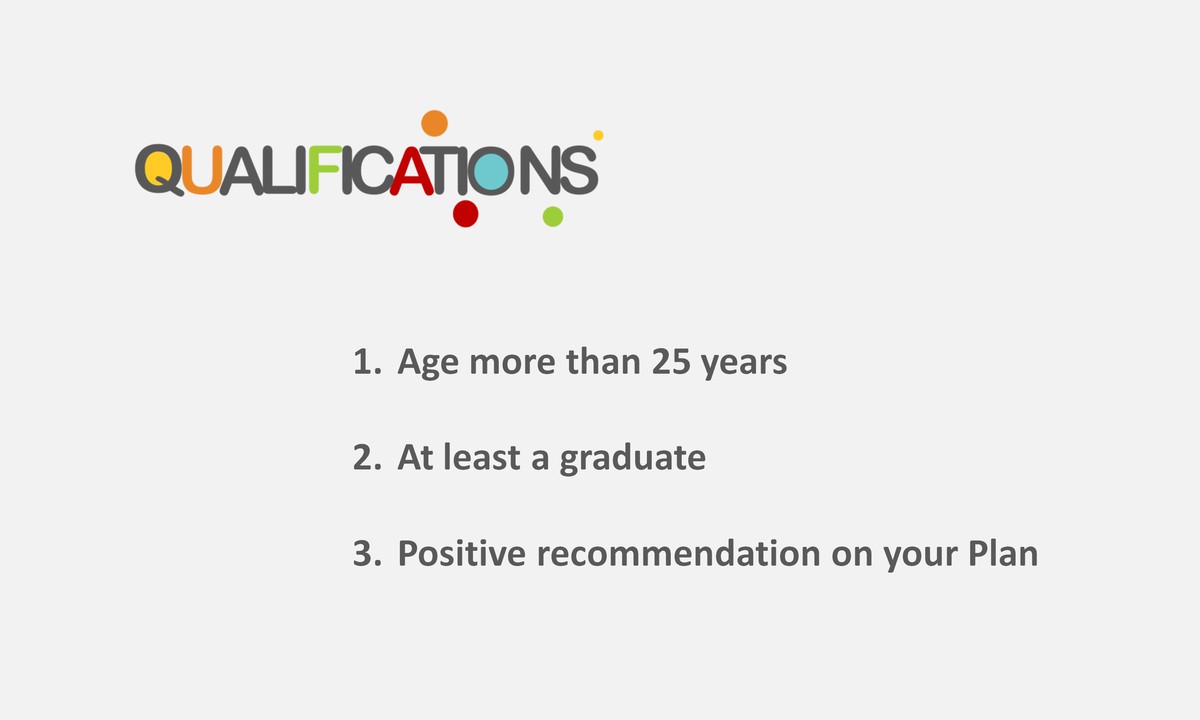 Before you Start
Review the Career Plans below and make sure that you are 100% convinced that the LifePage Career Plan is a perfect Career solution.
---
Real Career Plans
---
Prabhleen [Standard XII]


[Click to Download]

Prabhleen loves craft and has long cherished a dream to become an Event Decorator. But, there are two problems. First, there is no course in this domain and second, she could only say 4 lines about Event Decoration as a career.



After the Career Plan: Prabhleen wrote a 22 line essay on Event Decoration. She knows what courses to pursue, which internships to do, what trainings to do and even how to prepare for starting her own company.
Ruchika [1st Year College]


[Click to Download]

Ruchika is a very bright student and wanted to become an Actuary. She gained admission in BA Economics, University of Calcutta. However, after a year she realized that she does not like Economics and Statistics at college level. She displayed a lot of courage to drop out of a prestigious course and return to Siliguri, however she had no idea of what to do next.



After the Career Plan, Ruchika discovered her calling in Travel Journalism and she could write a 15 line essay on the same. She knows how to decide whether to work for a company or start her own brand. She has clarity on what education to pursue, trainings, certifications and even on how to develop her network.
Namita [8 yrs Experience]


[Click to Download]

Namita has been working as a Manager with a Beauty Saloon for the past 8 years. She is bored of the daily routine and seeks the possibility of learning new things and further growth. She has tendered her resignation to think about her future course or action. However, she is unable to figure out how to leverage her industry knowledge and if she should rekindle her interest in Designing.



After the Career Plan, Namita wants to make a Career in Training and Placement. She arrived at this decision after a conscious assessment of her interests in designing and strengths in training. She has specific action items on how she can up skill herself and gain entry into her chosen Career.
Testimonials
[Testimonial 1 / 34 ]
[Testimonial 2 / 34 ]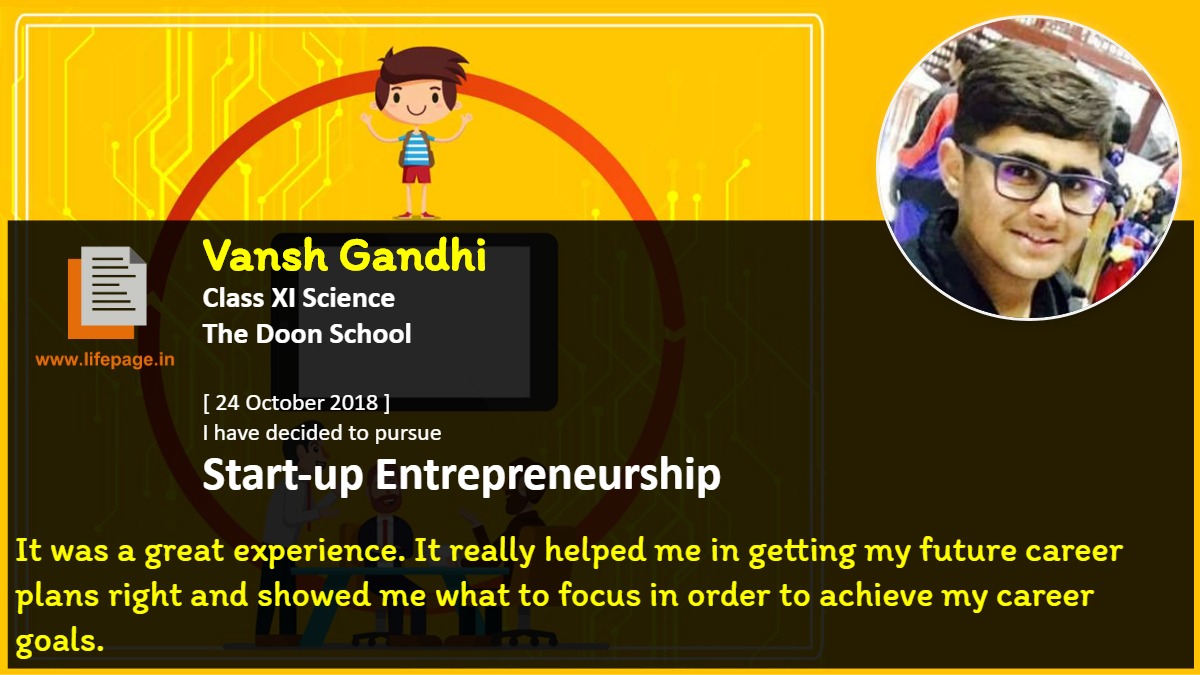 [Testimonial 3 / 34 ]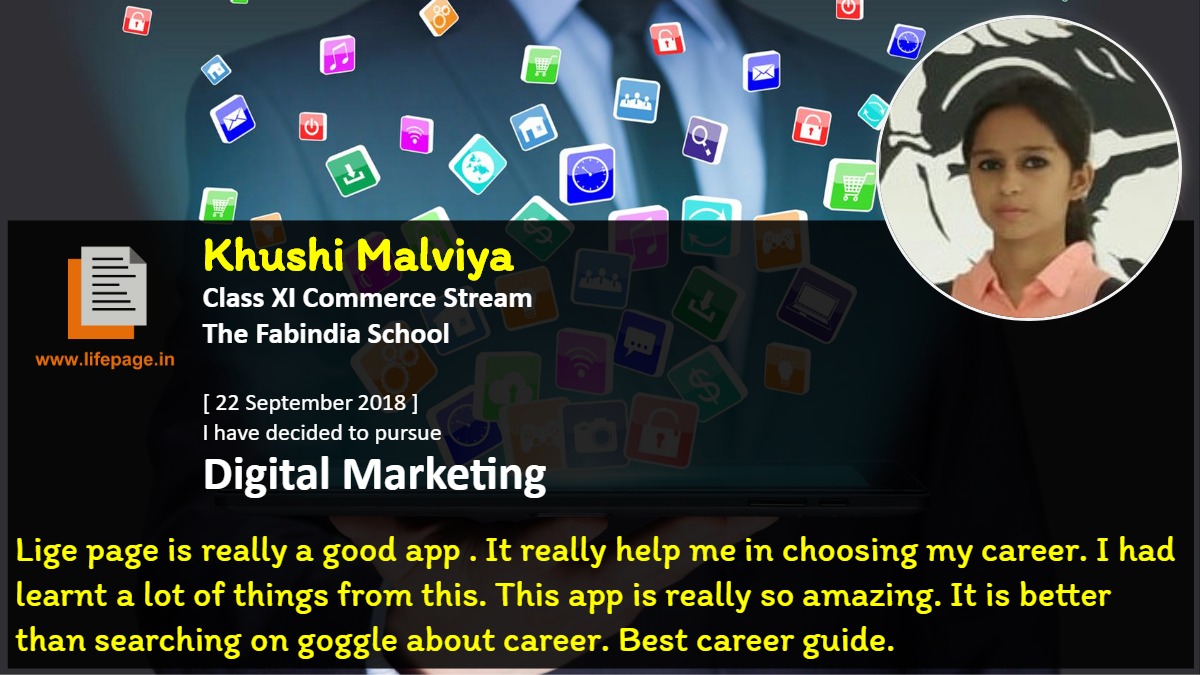 [Testimonial 4 / 34 ]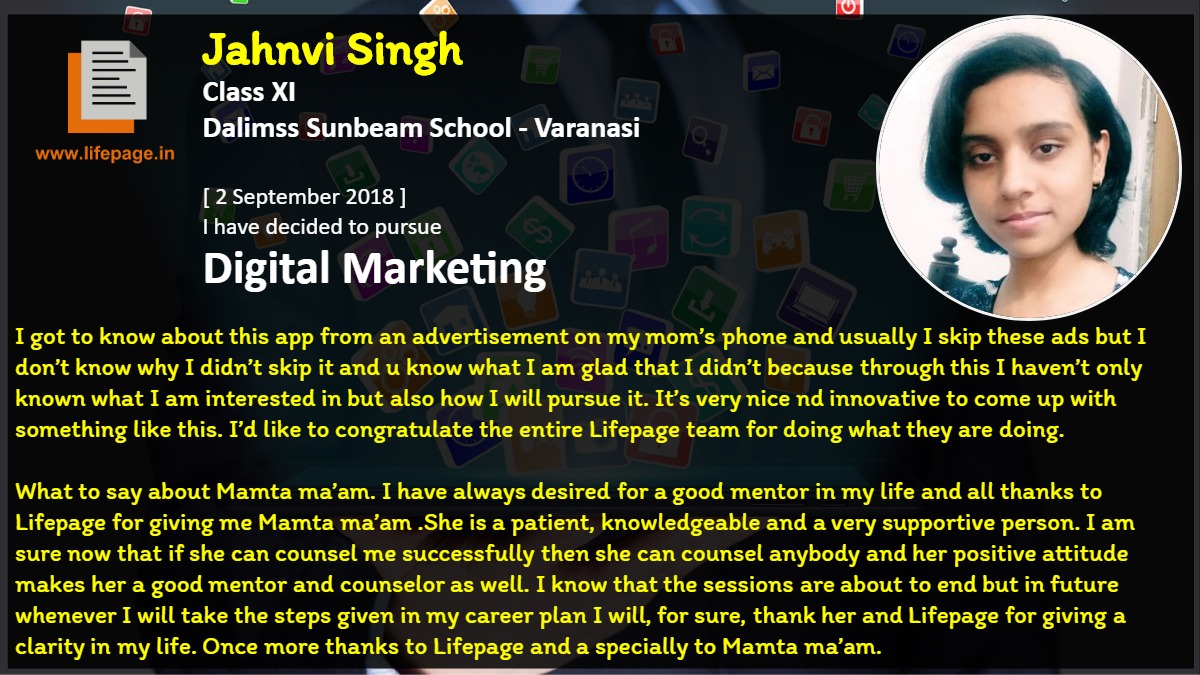 [Testimonial 5 / 34 ]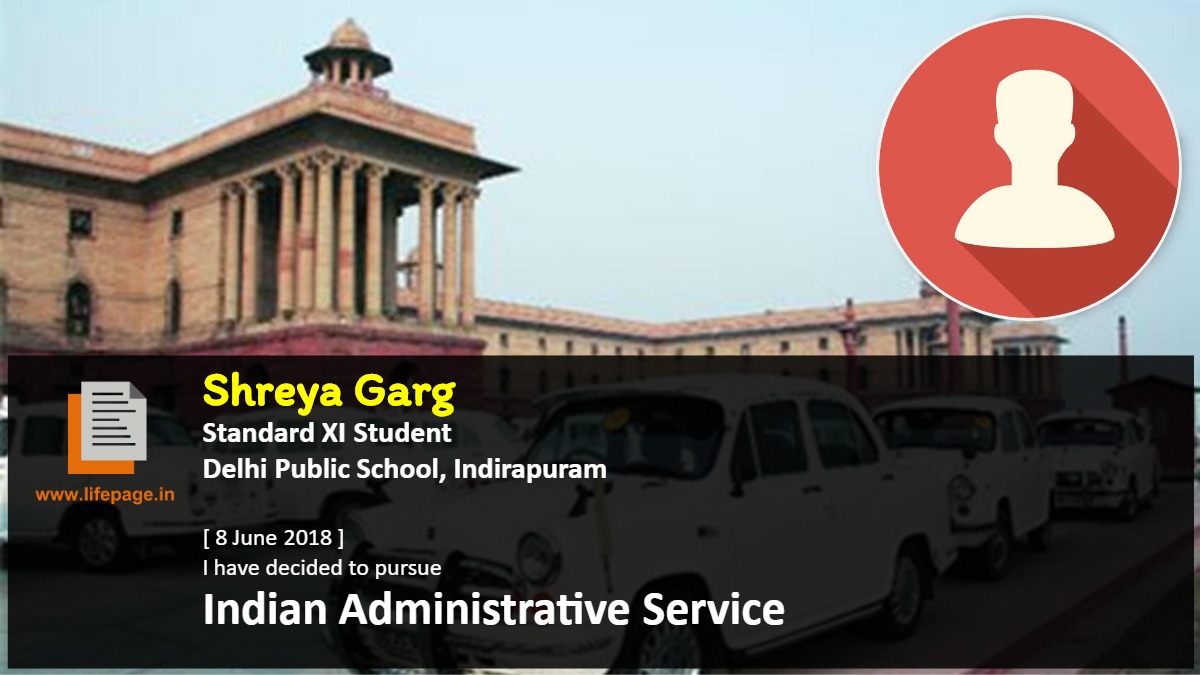 [Testimonial 6 / 34 ]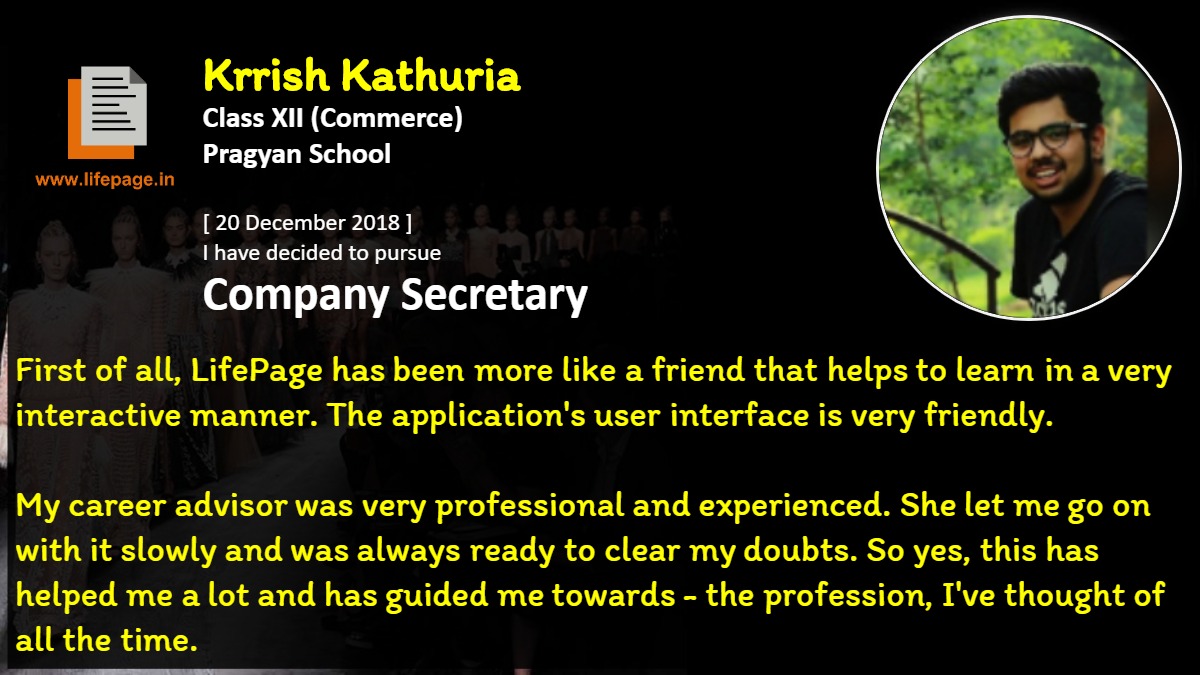 [Testimonial 7 / 34 ]
[Testimonial 8 / 34 ]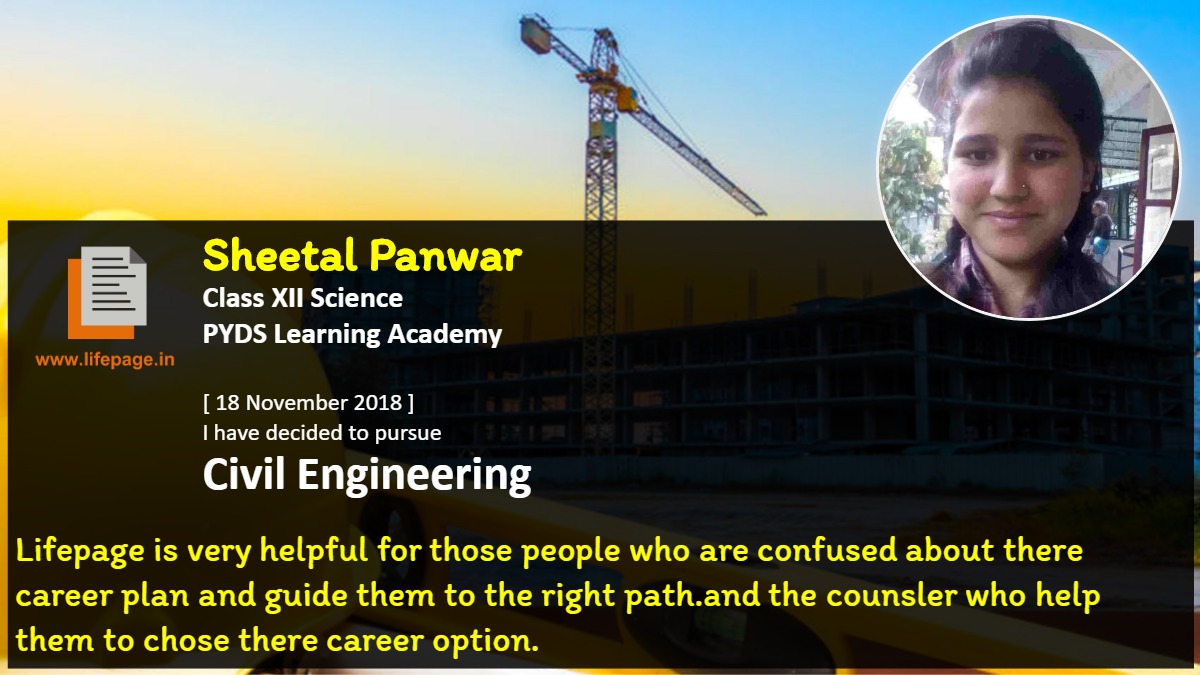 [Testimonial 9 / 34 ]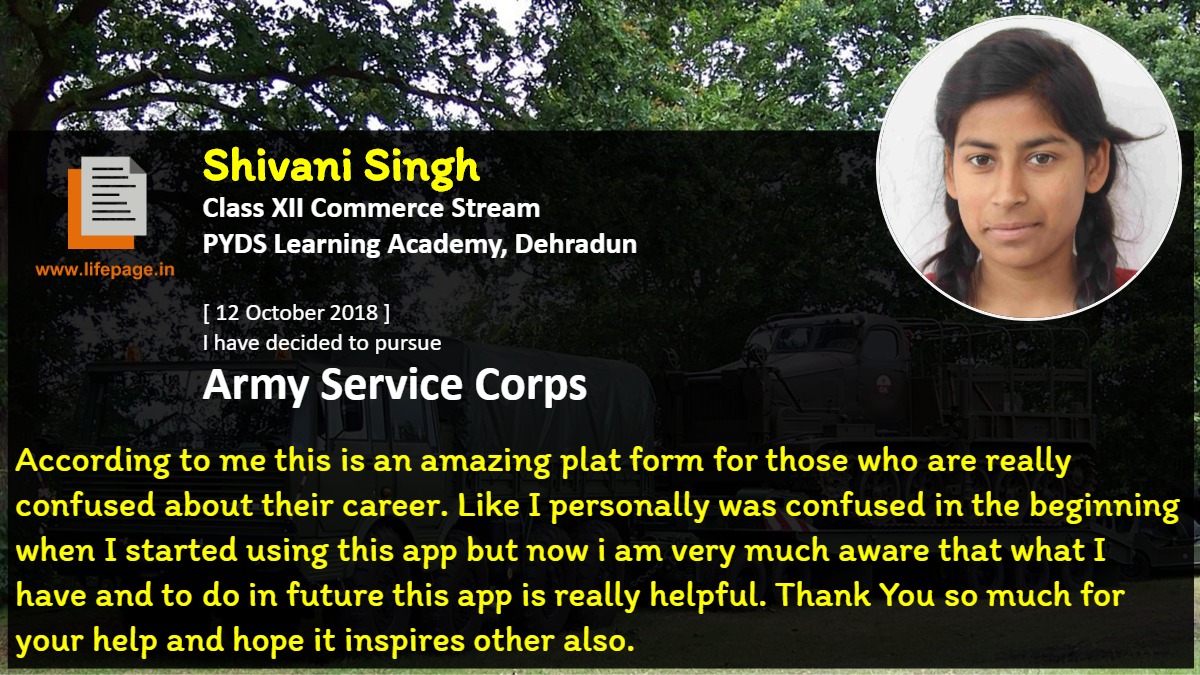 [Testimonial 10 / 34 ]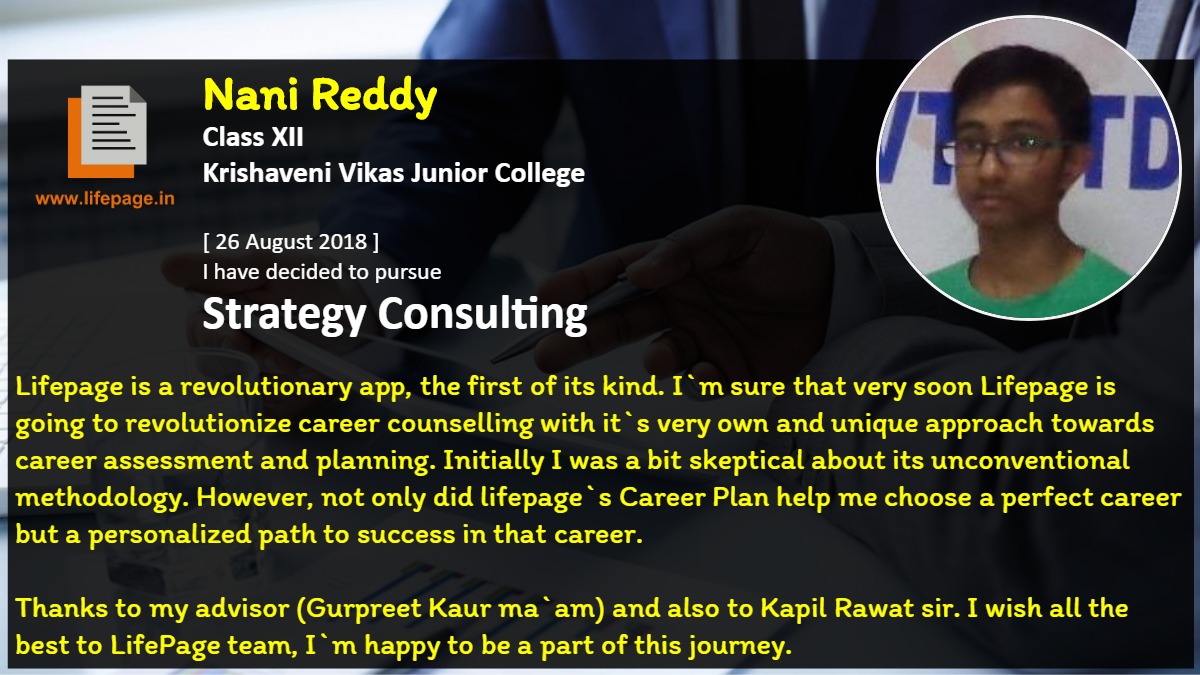 [Testimonial 11 / 34 ]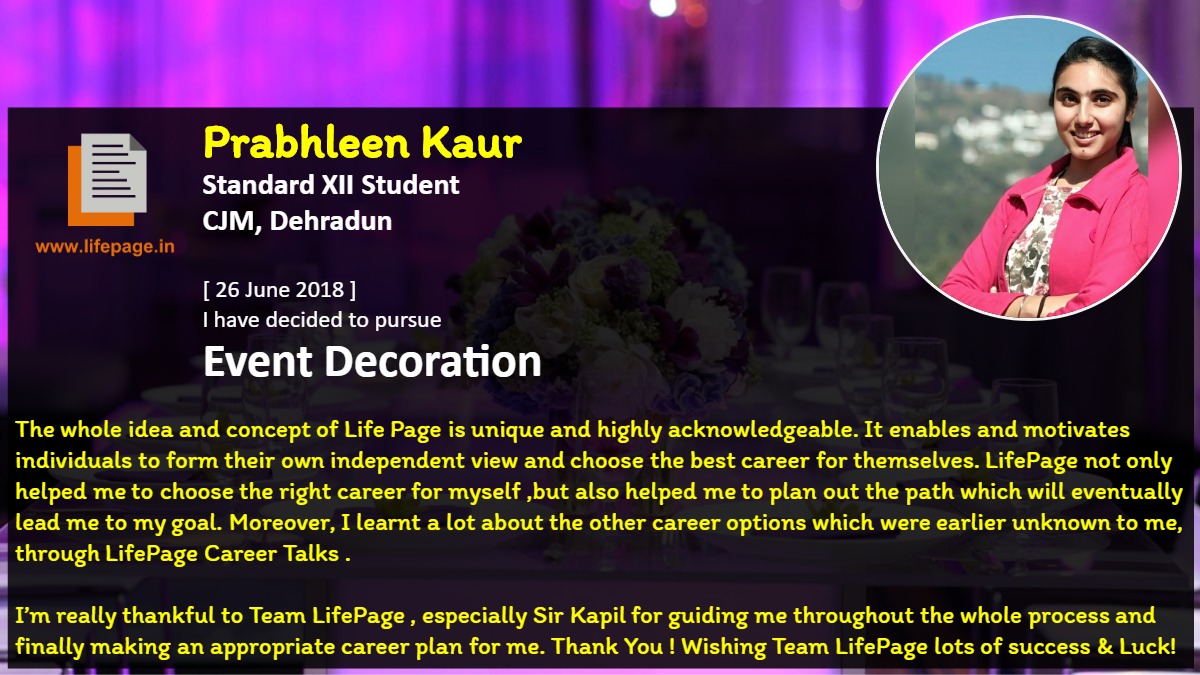 [Testimonial 12 / 34 ]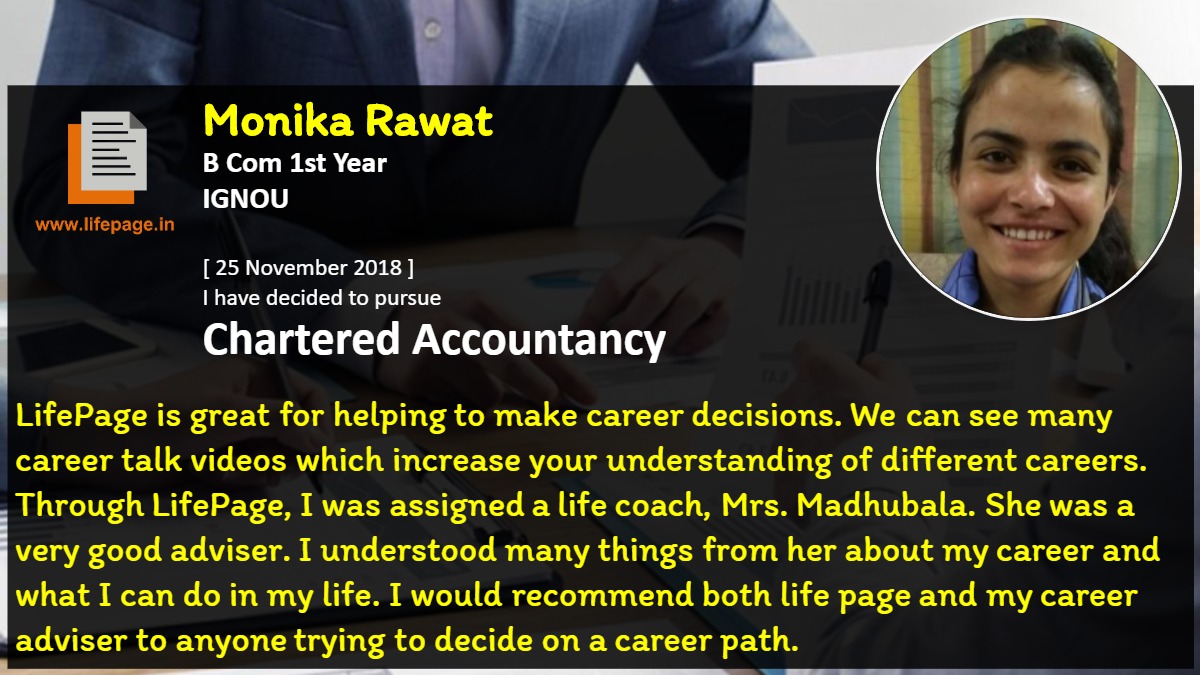 [Testimonial 13 / 34 ]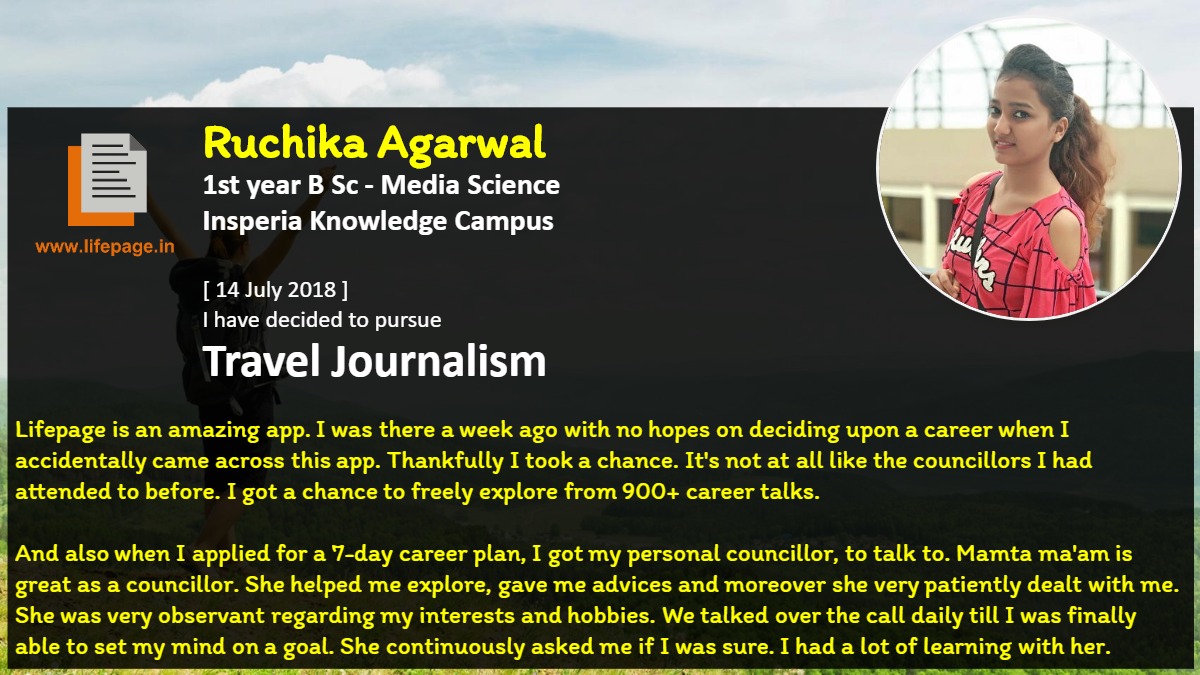 [Testimonial 14 / 34 ]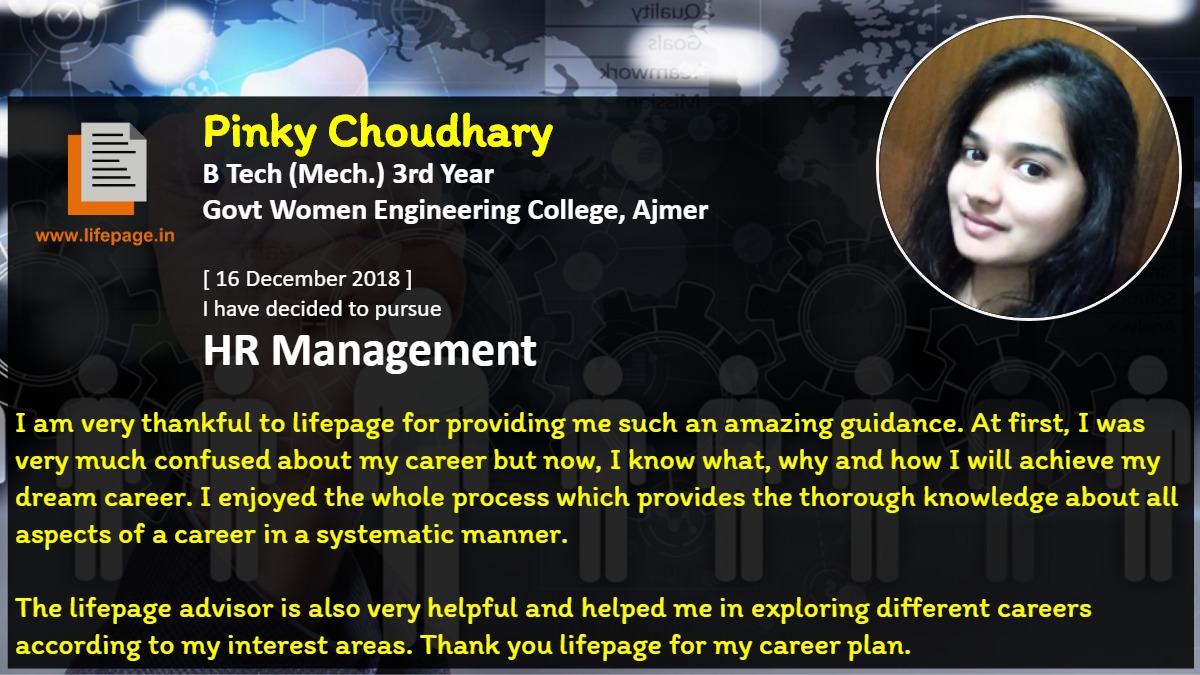 [Testimonial 15 / 34 ]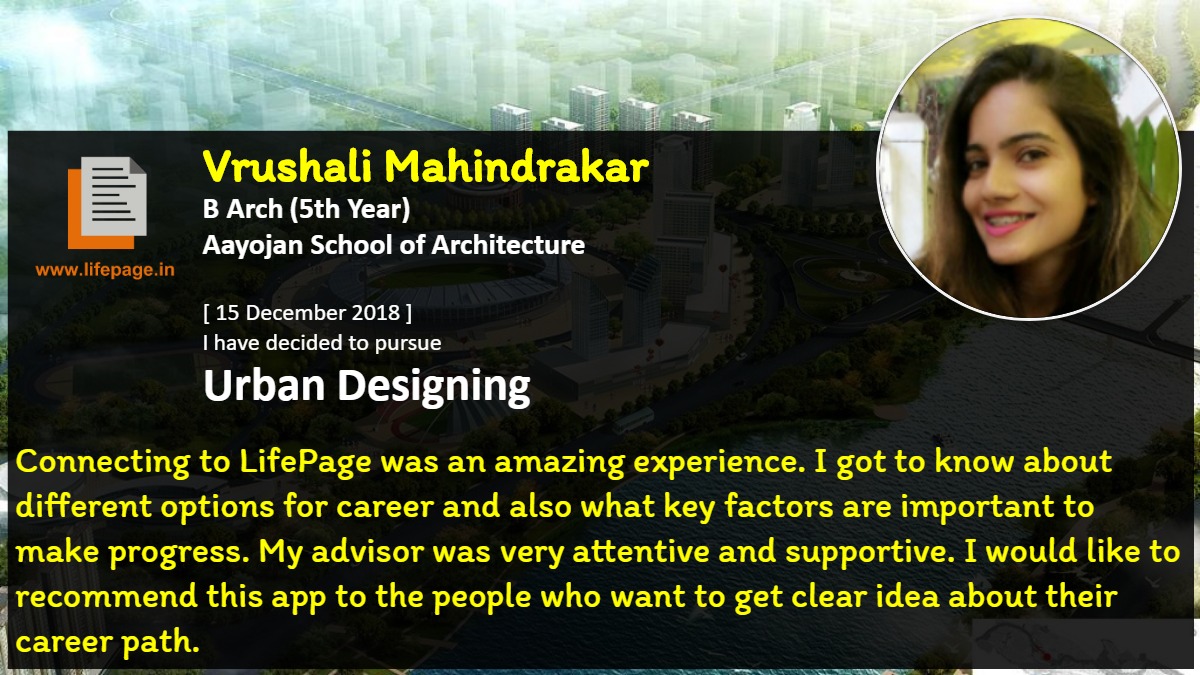 [Testimonial 16 / 34 ]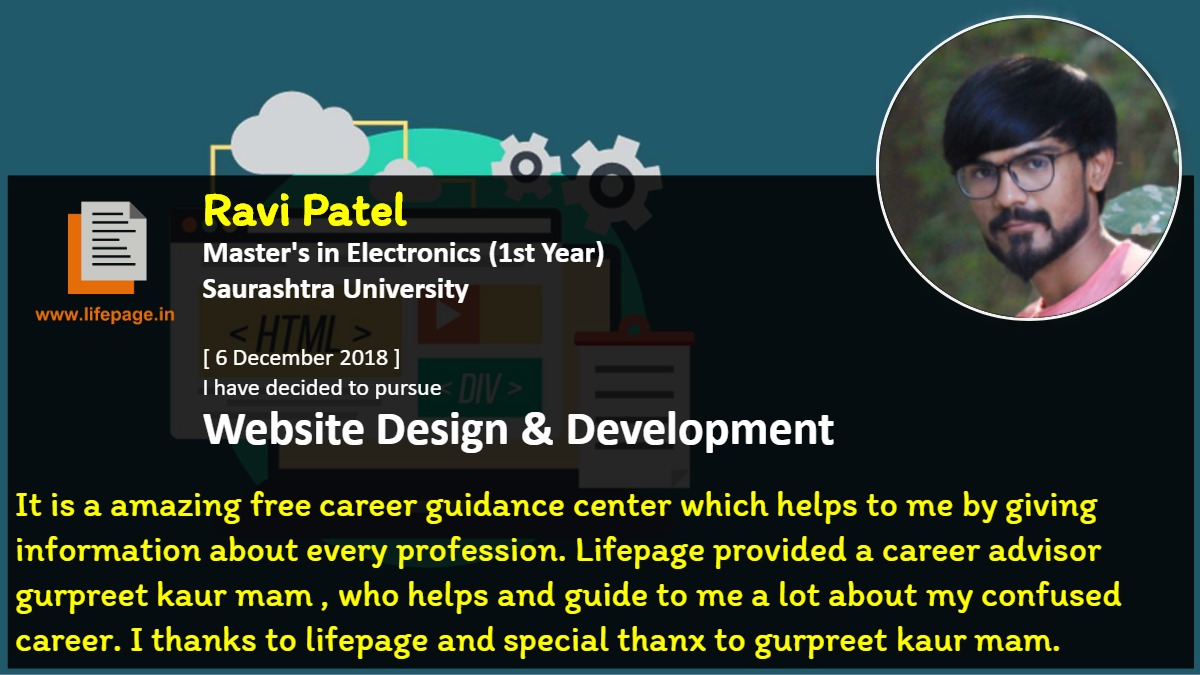 [Testimonial 17 / 34 ]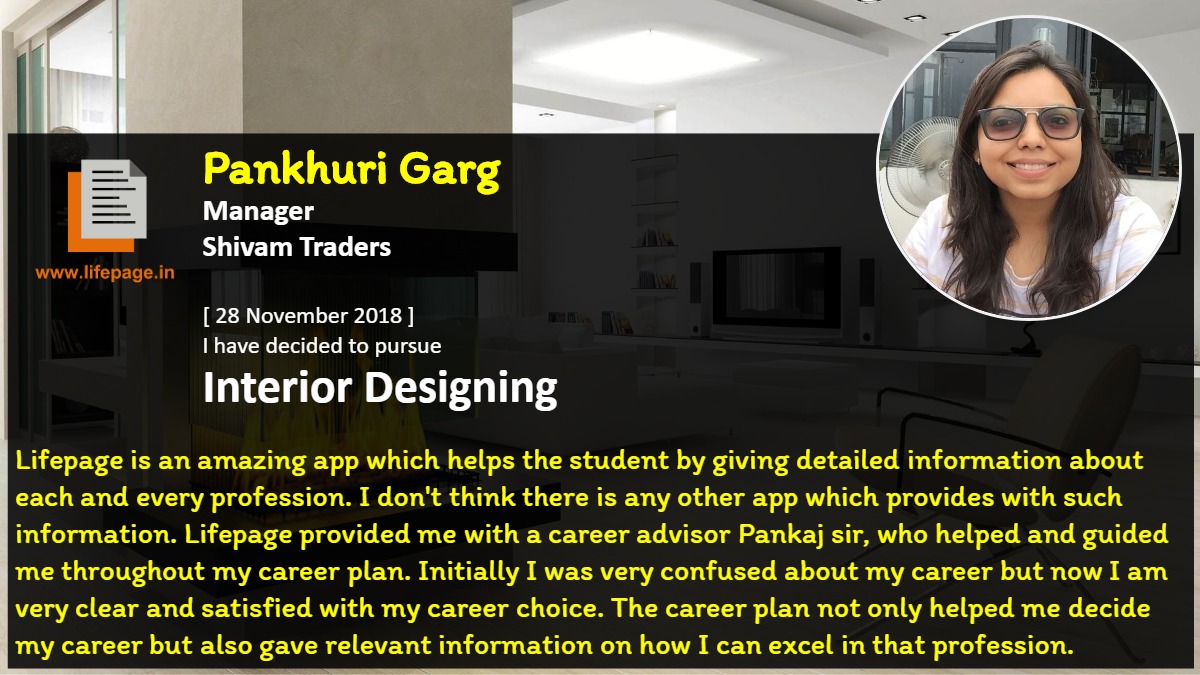 [Testimonial 18 / 34 ]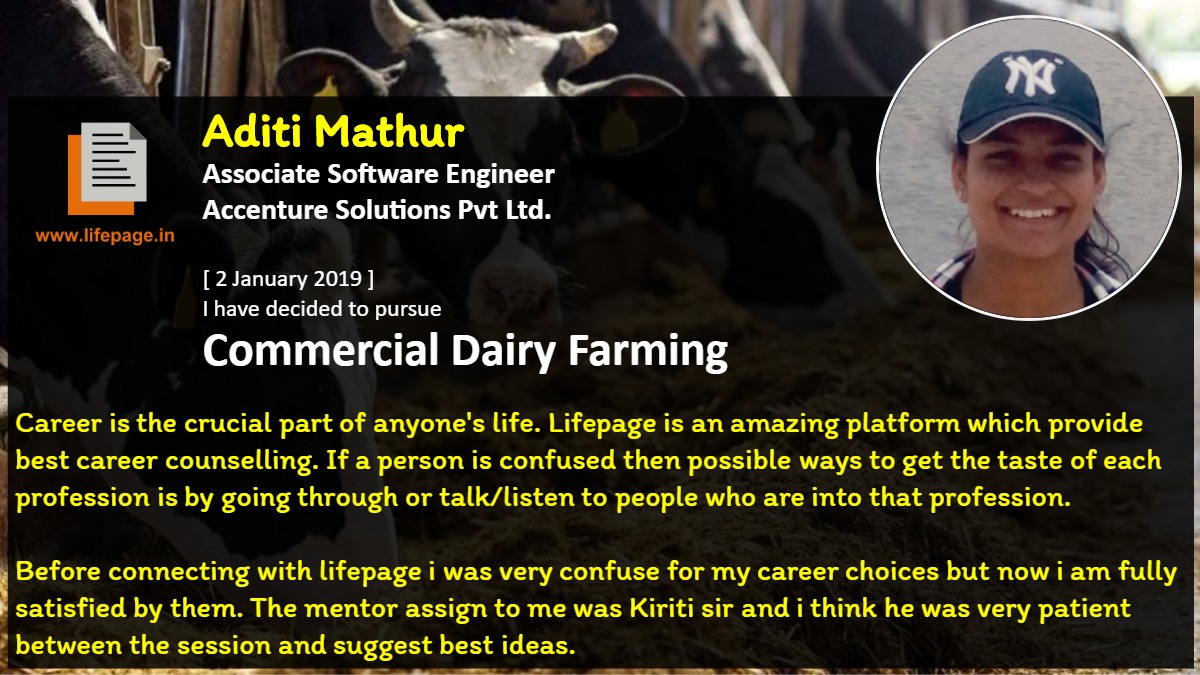 [Testimonial 19 / 34 ]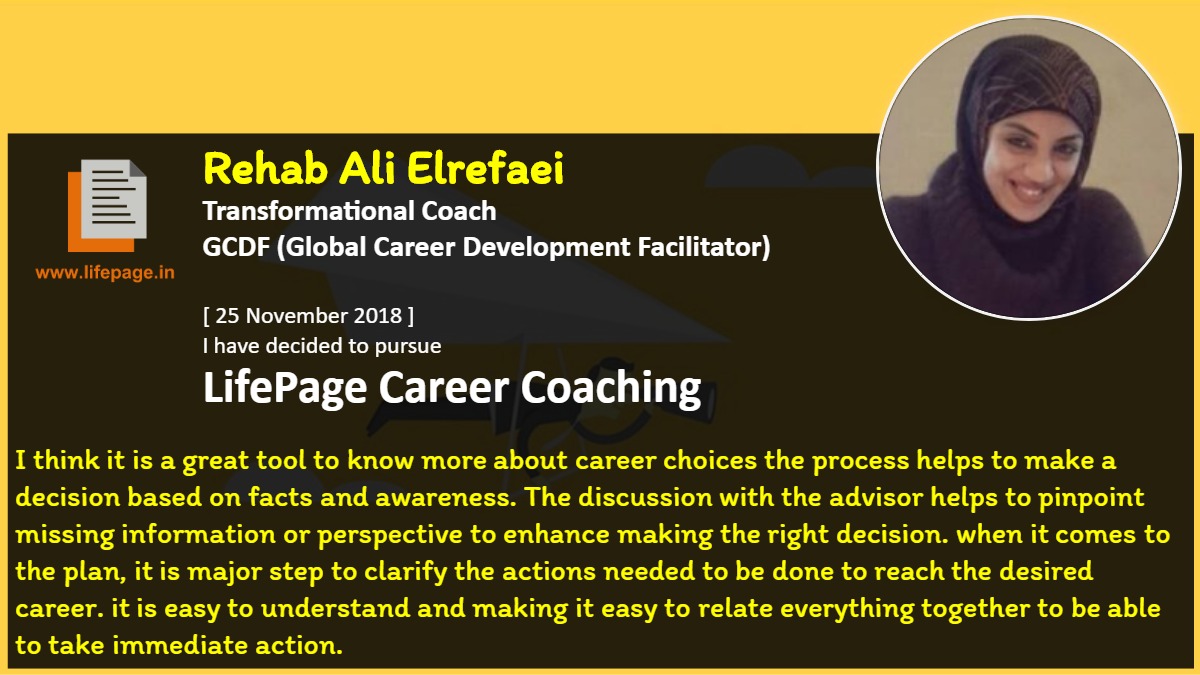 [Testimonial 20 / 34 ]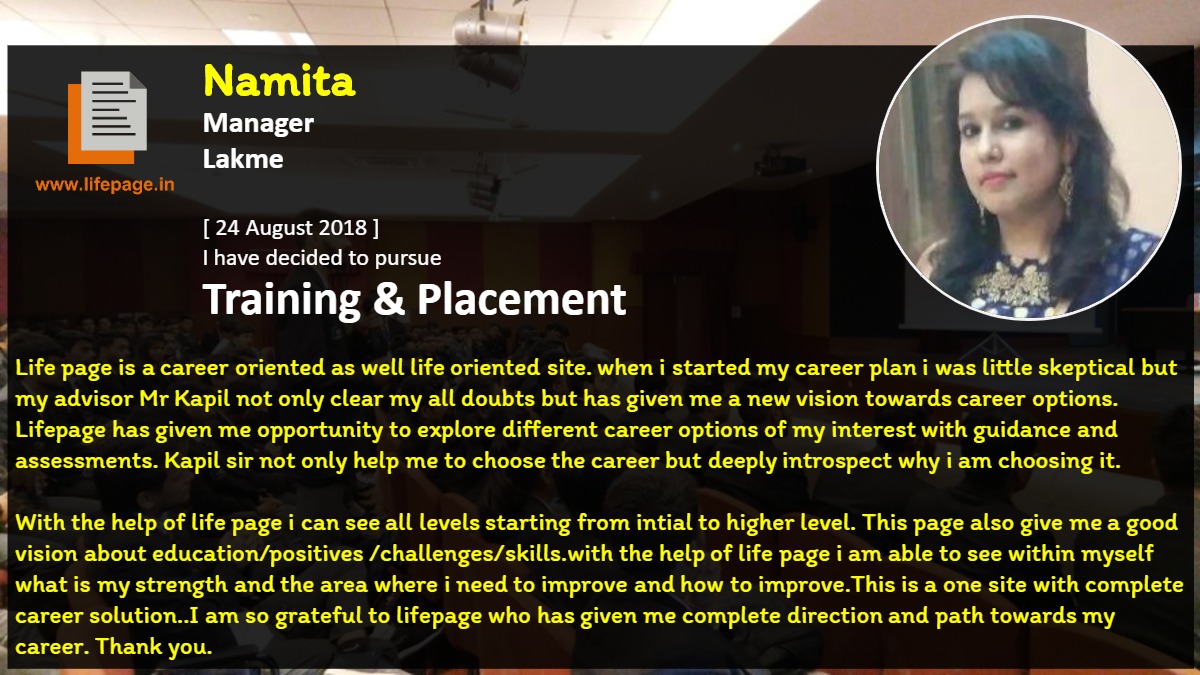 [Testimonial 21 / 34 ]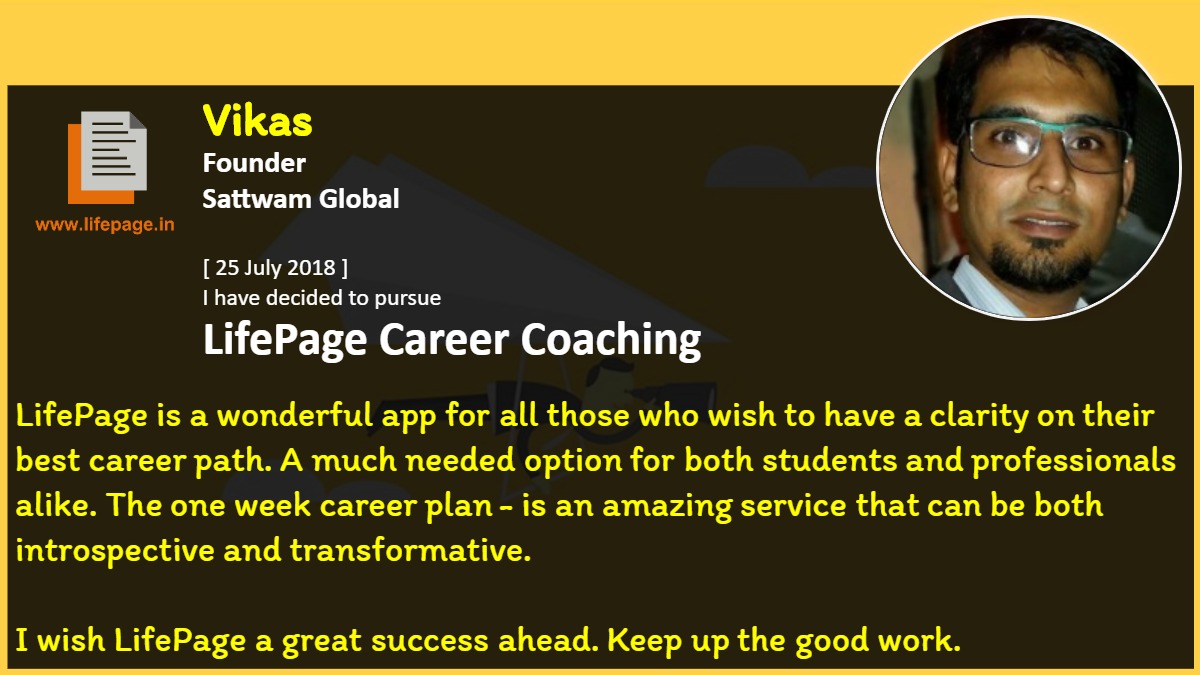 [Testimonial 22 / 34 ]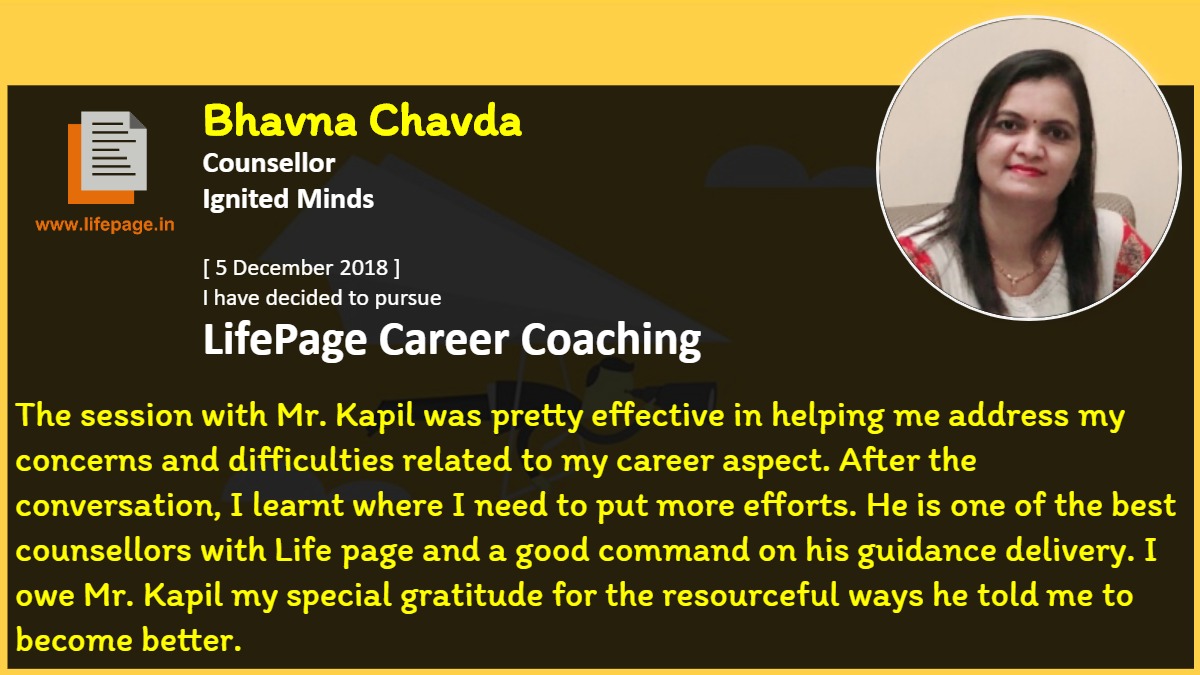 [Testimonial 23 / 34 ]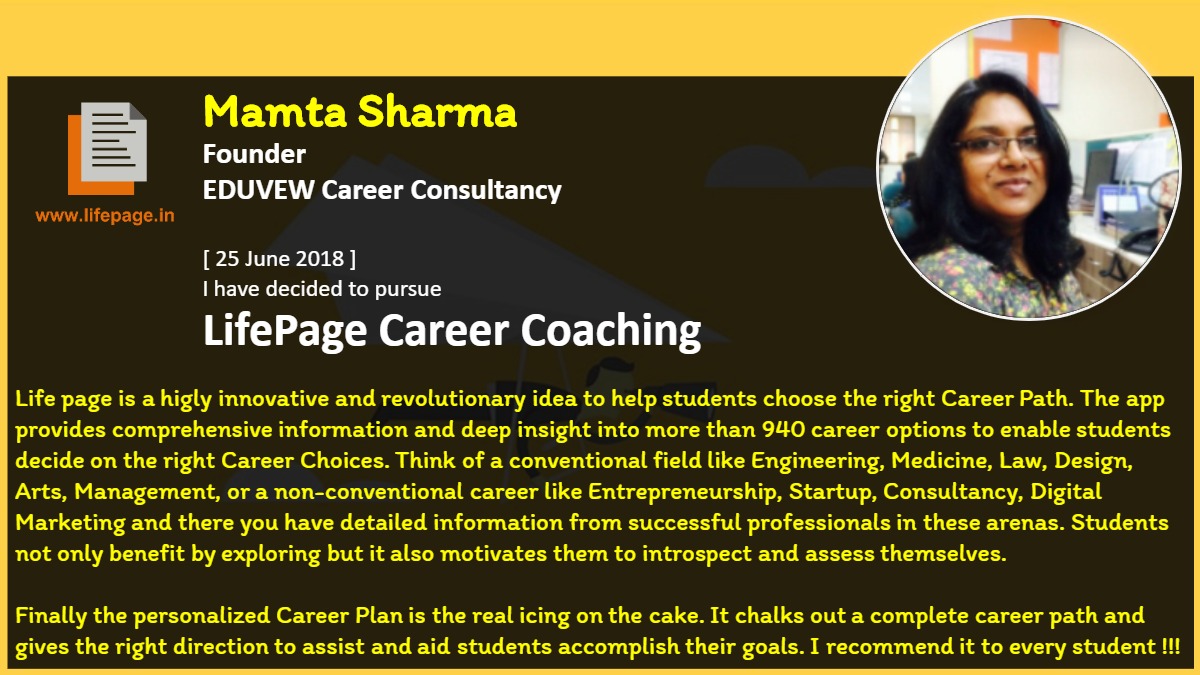 [Testimonial 24 / 34 ]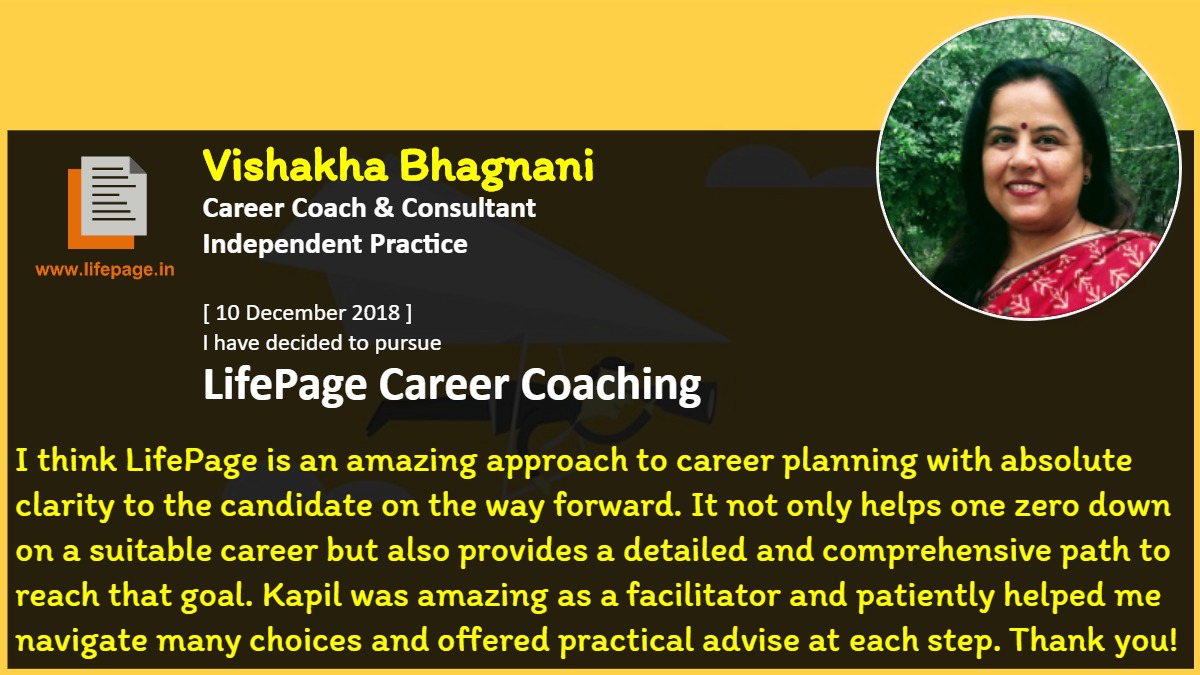 [Testimonial 25 / 34 ]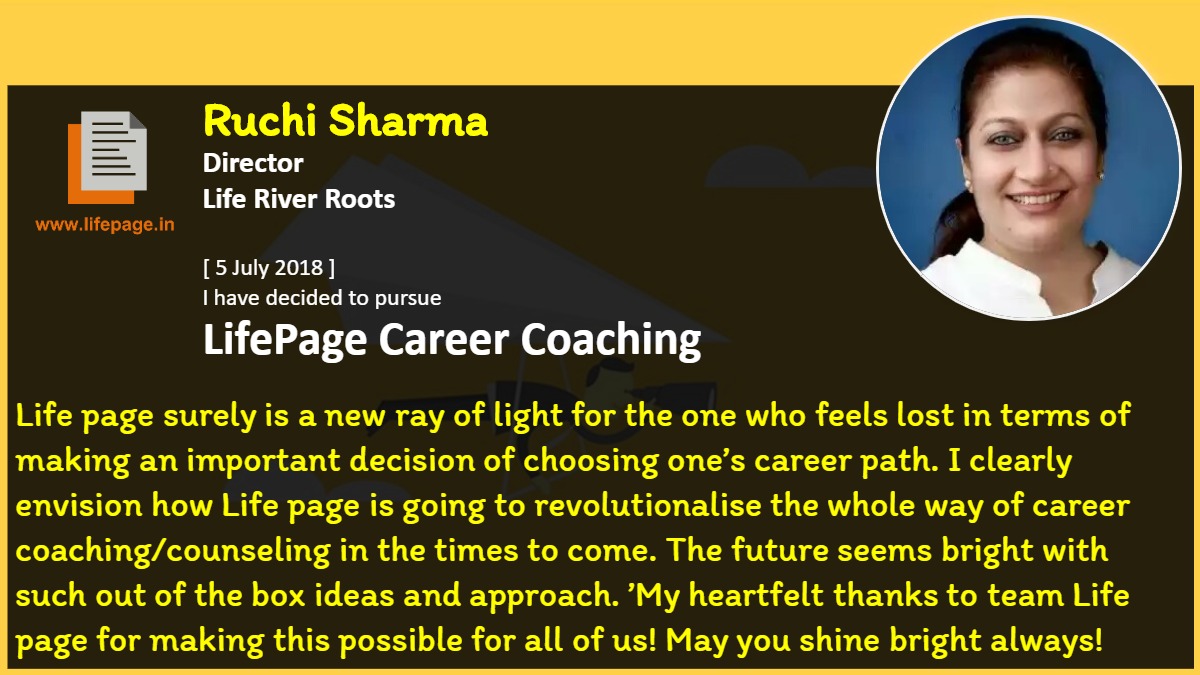 [Testimonial 26 / 34 ]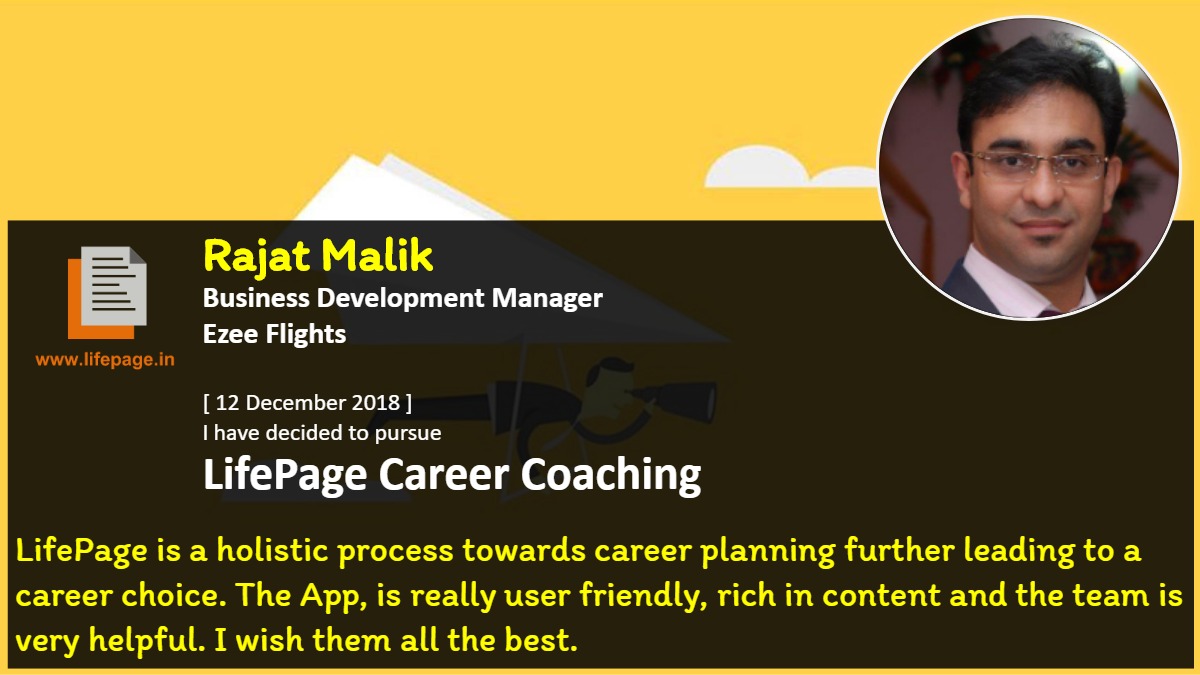 [Testimonial 27 / 34 ]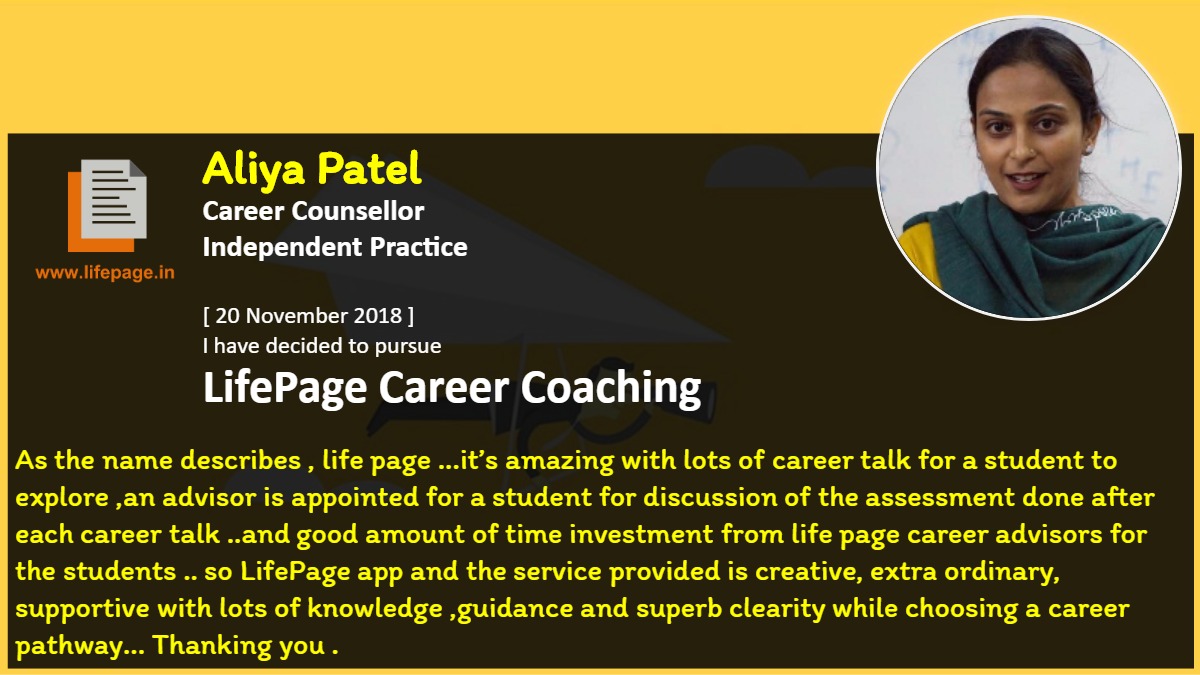 [Testimonial 28 / 34 ]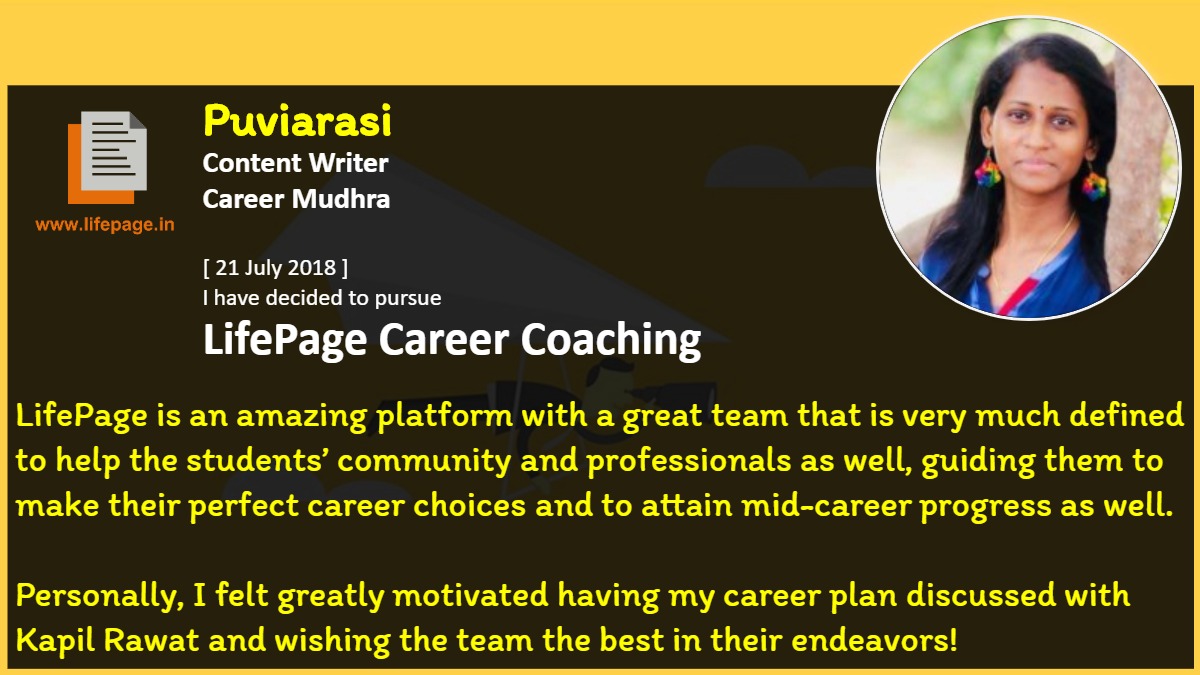 [Testimonial 29 / 34 ]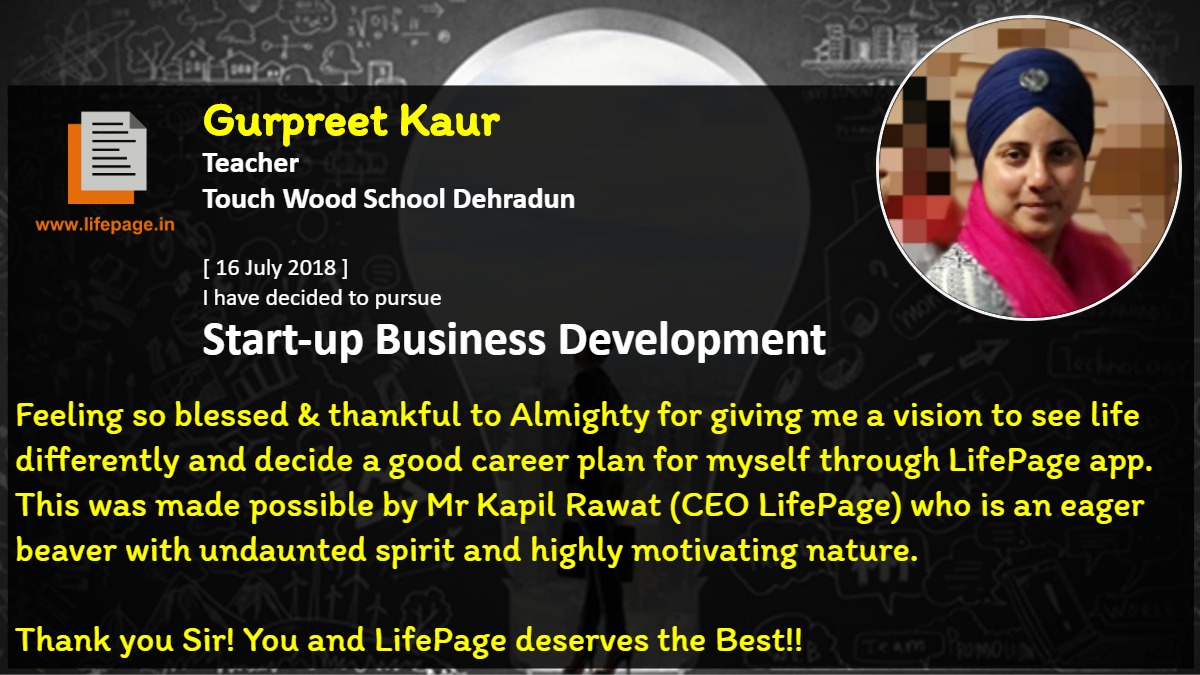 [Testimonial 30 / 34 ]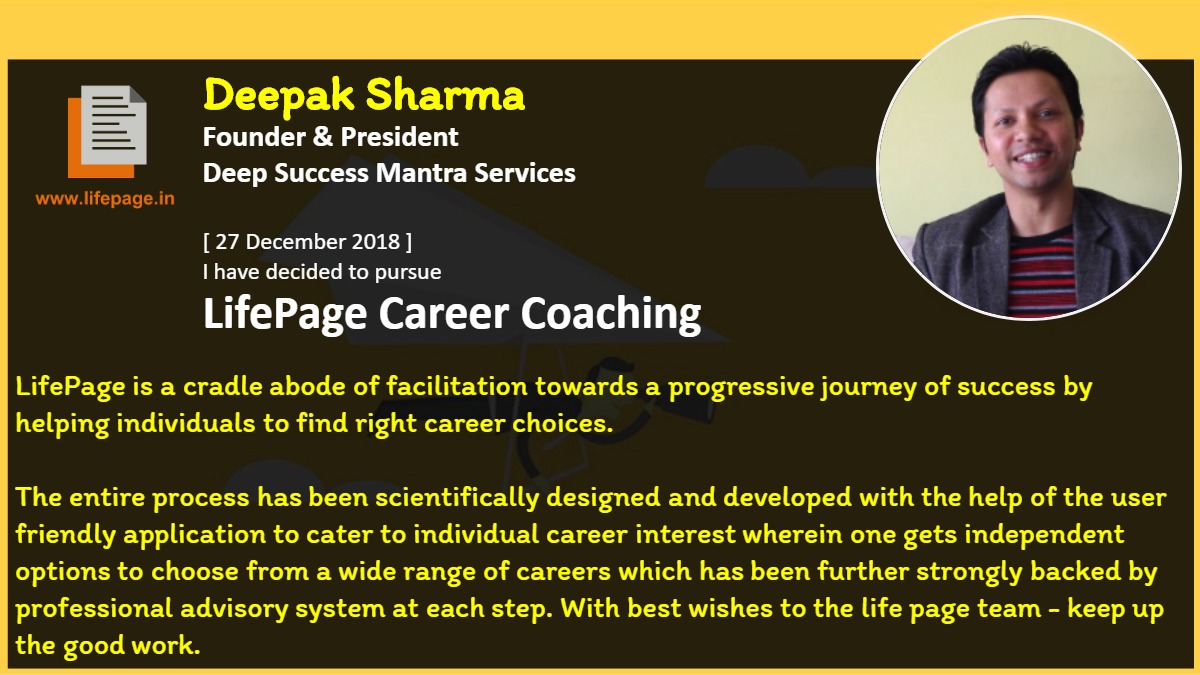 [Testimonial 31 / 34 ]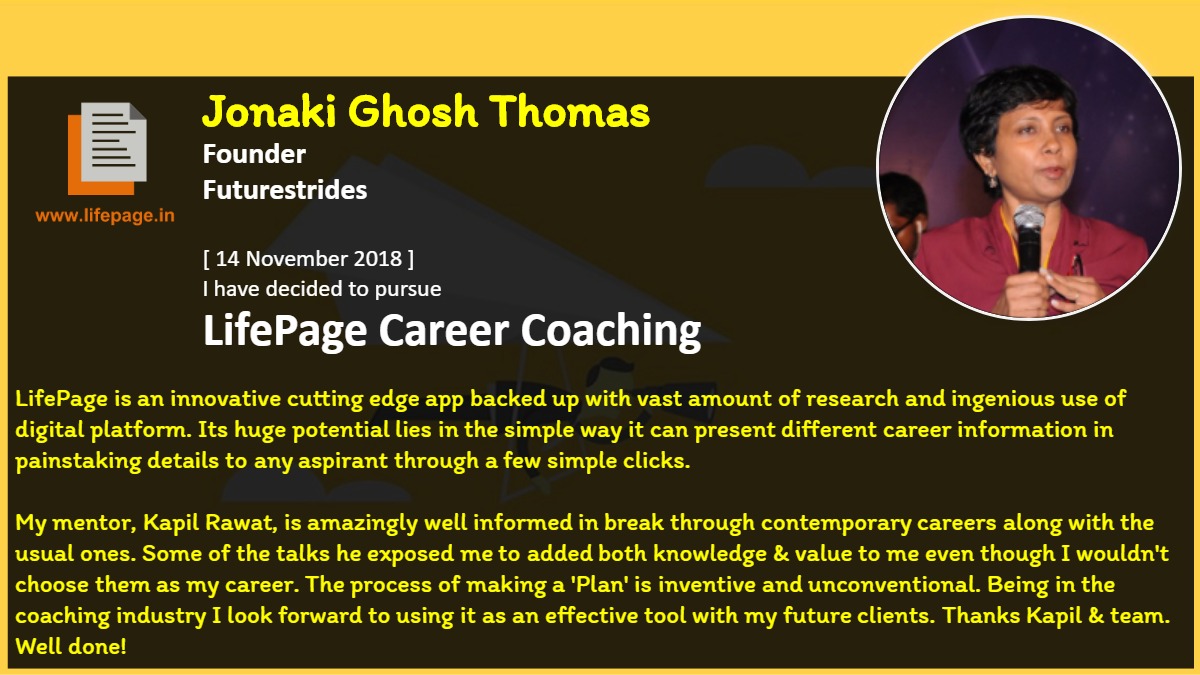 [Testimonial 32 / 34 ]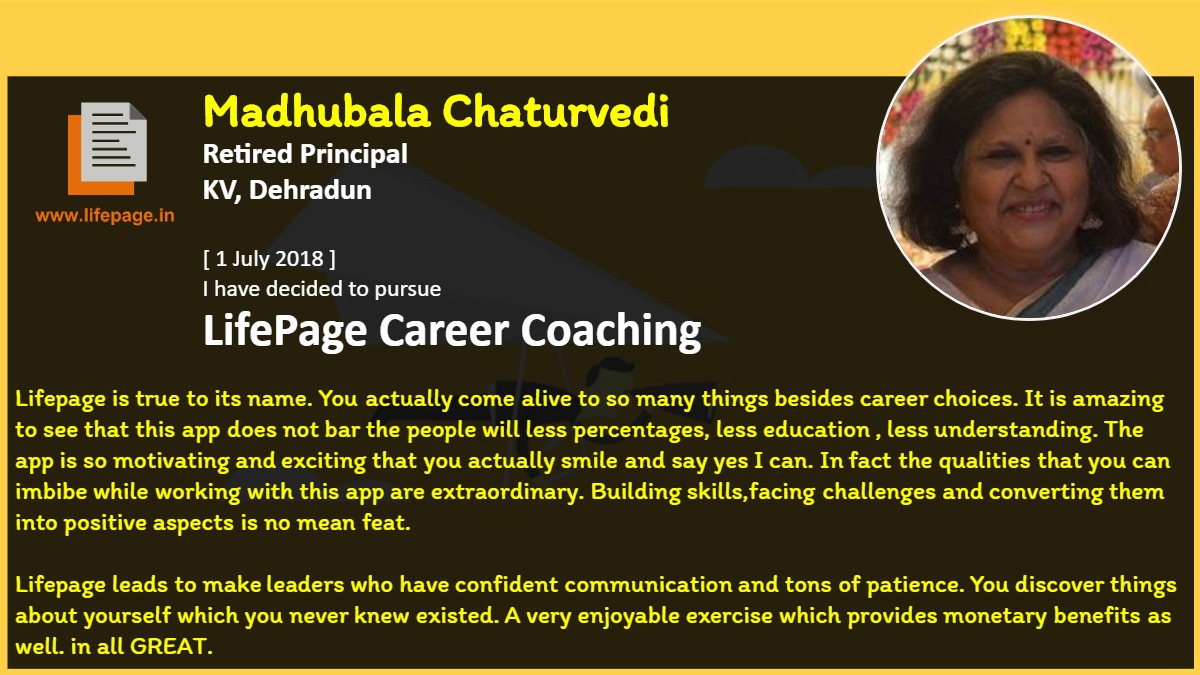 [Testimonial 33 / 34 ]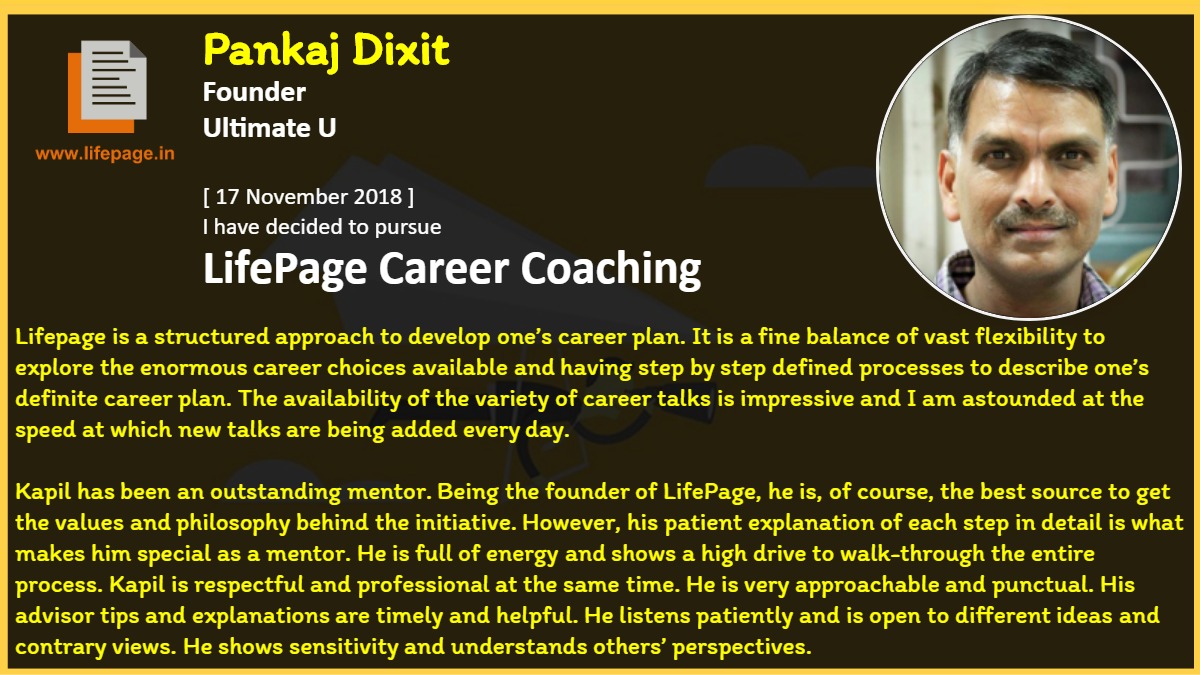 [Testimonial 34 / 34 ]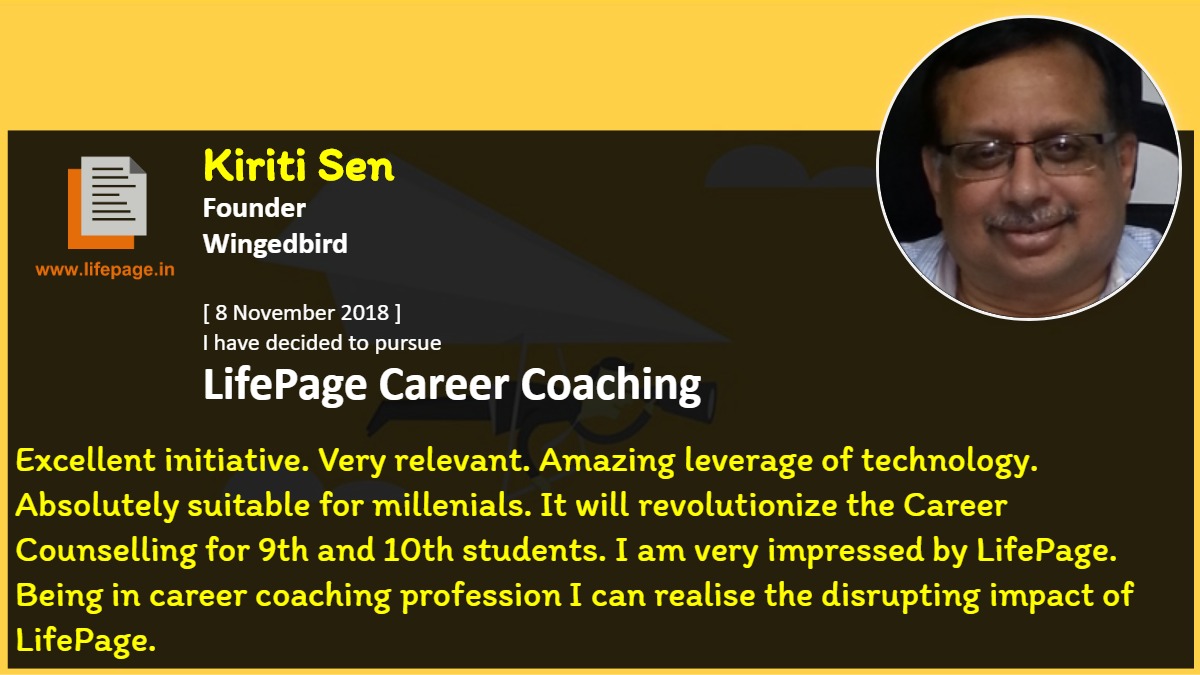 Next Steps
With an open mind - signup for your own Career Plan.
At the end of the process we may jointly feel that this is the best option for you else you will have a clear sense of what is best for you. If all goes well, you will be listed as a LifePage Career Advisor.
Career Advisors
[Advisor 1 / 16 ]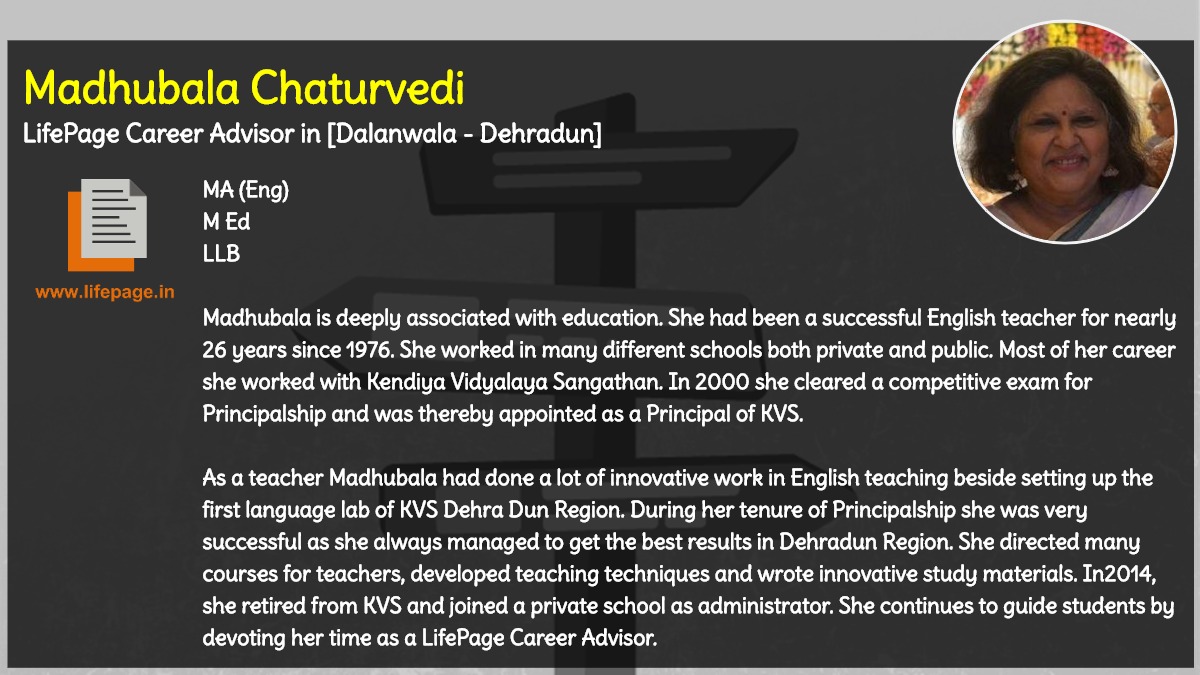 [Advisor 2 / 16 ]
[Advisor 3 / 16 ]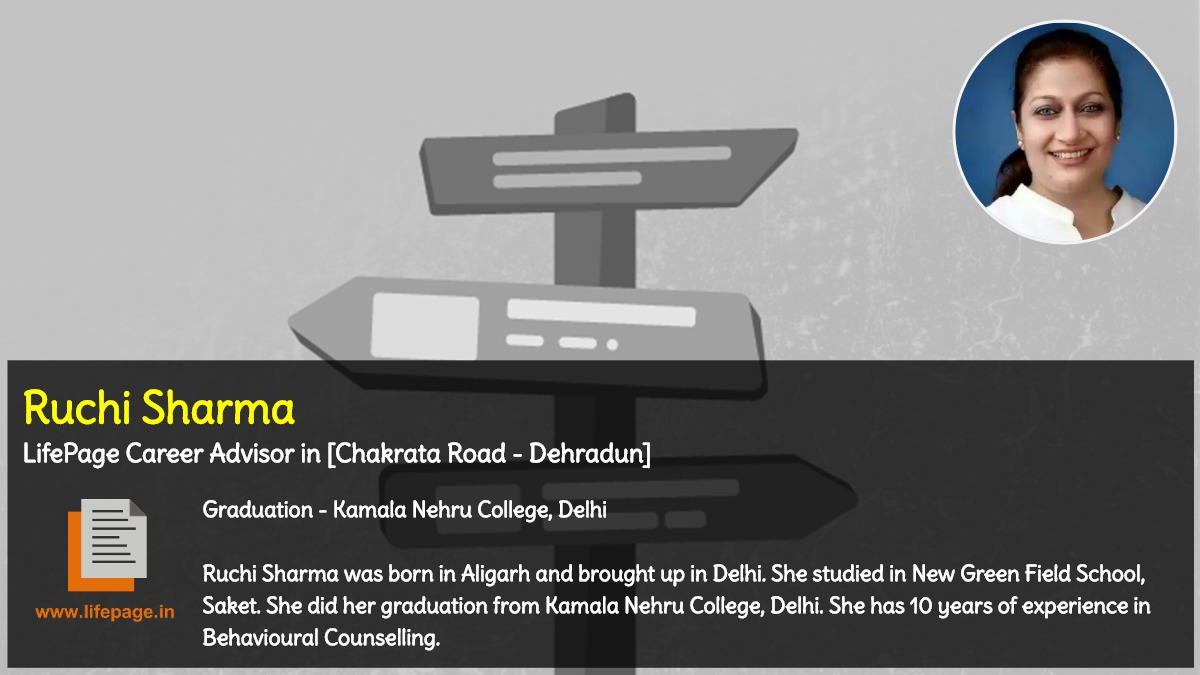 [Advisor 4 / 16 ]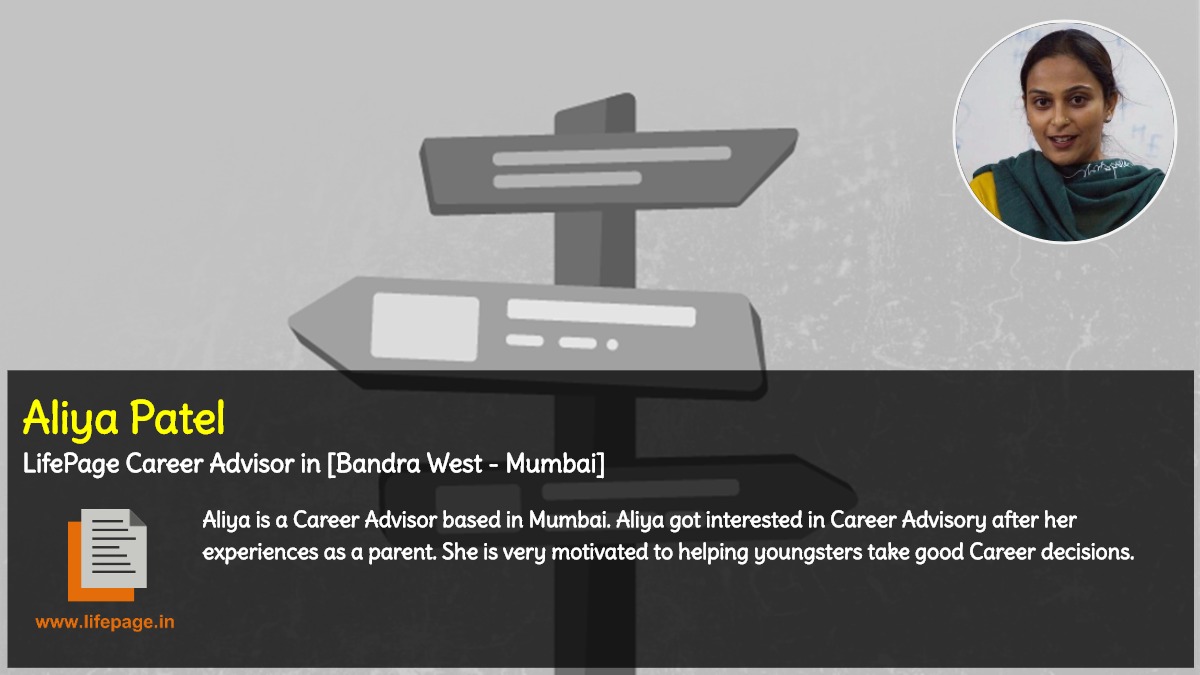 [Advisor 5 / 16 ]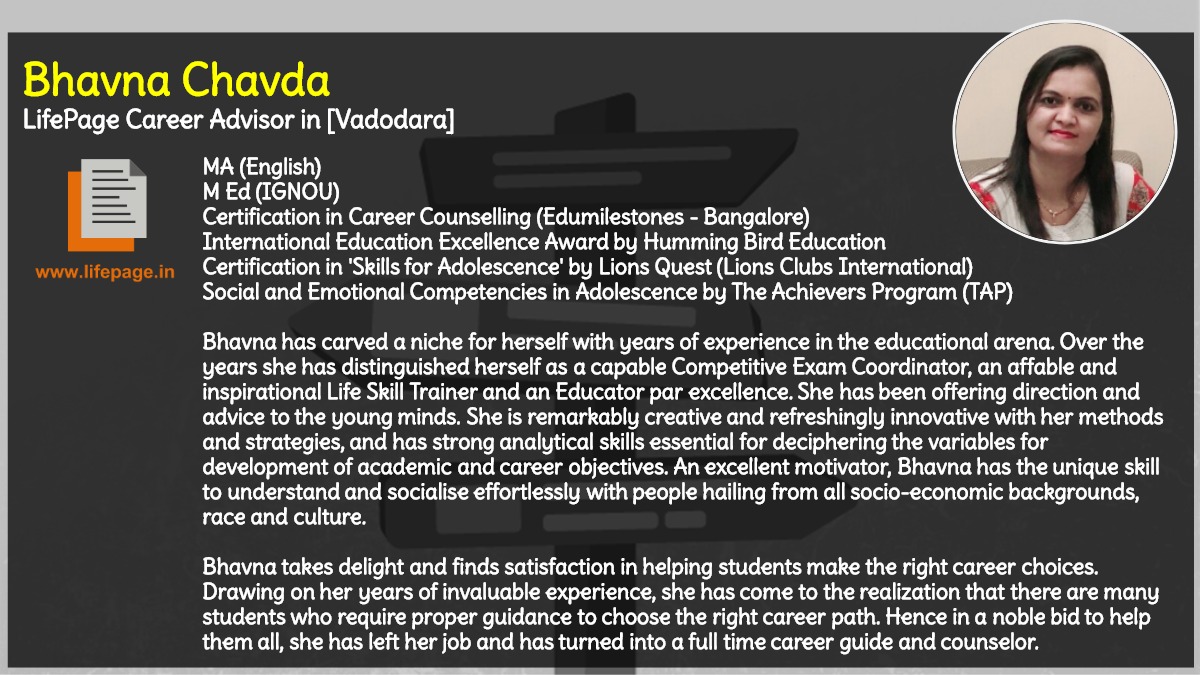 [Advisor 6 / 16 ]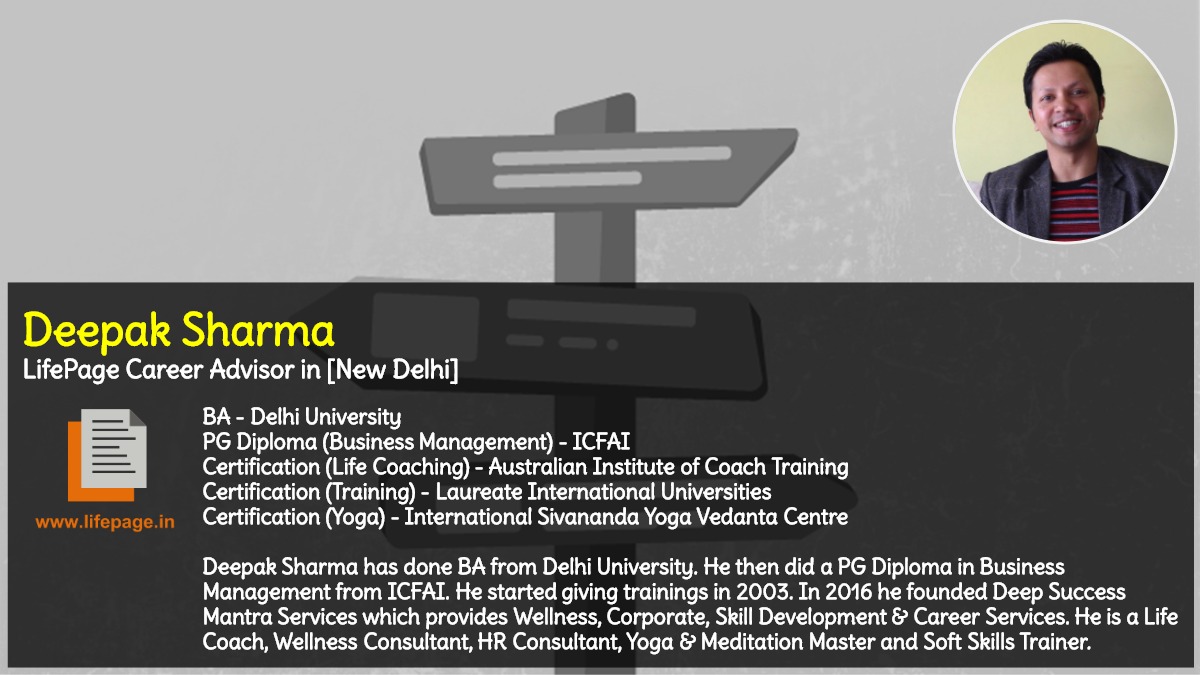 [Advisor 7 / 16 ]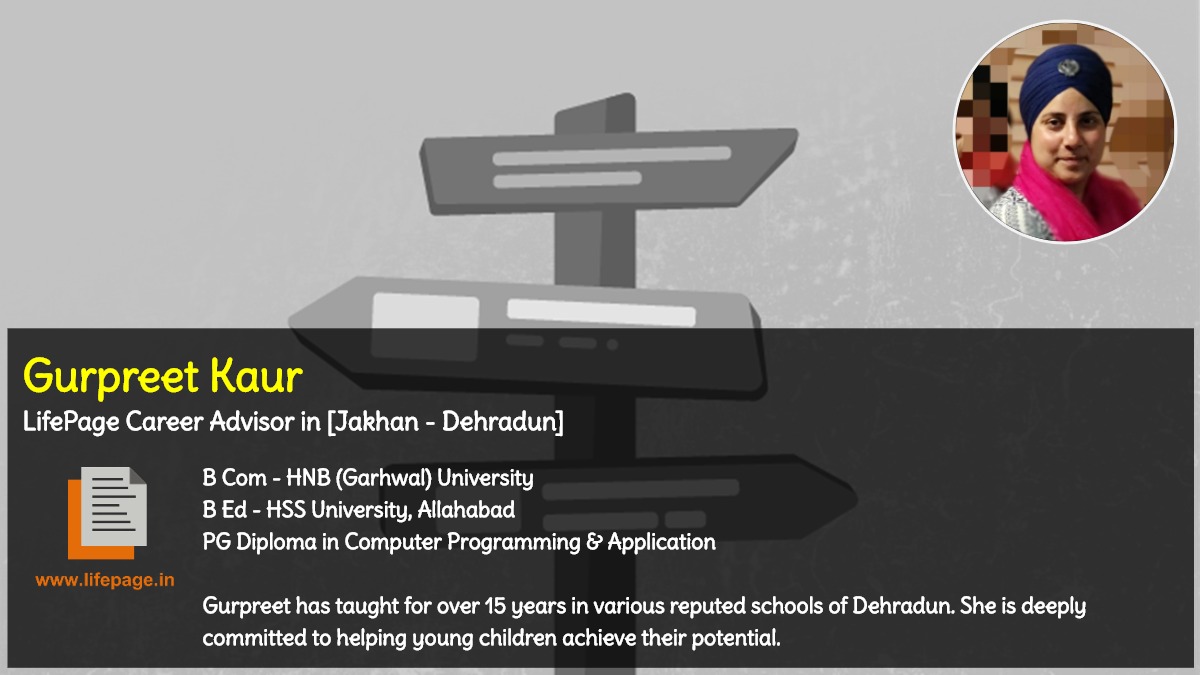 [Advisor 8 / 16 ]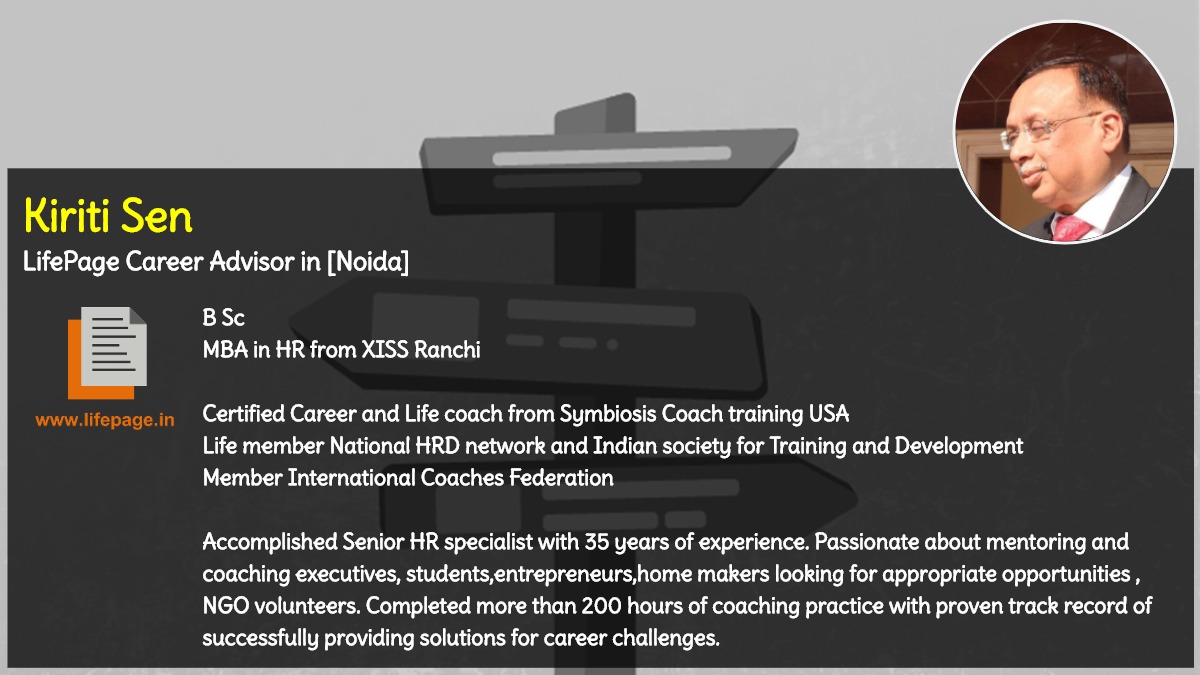 [Advisor 9 / 16 ]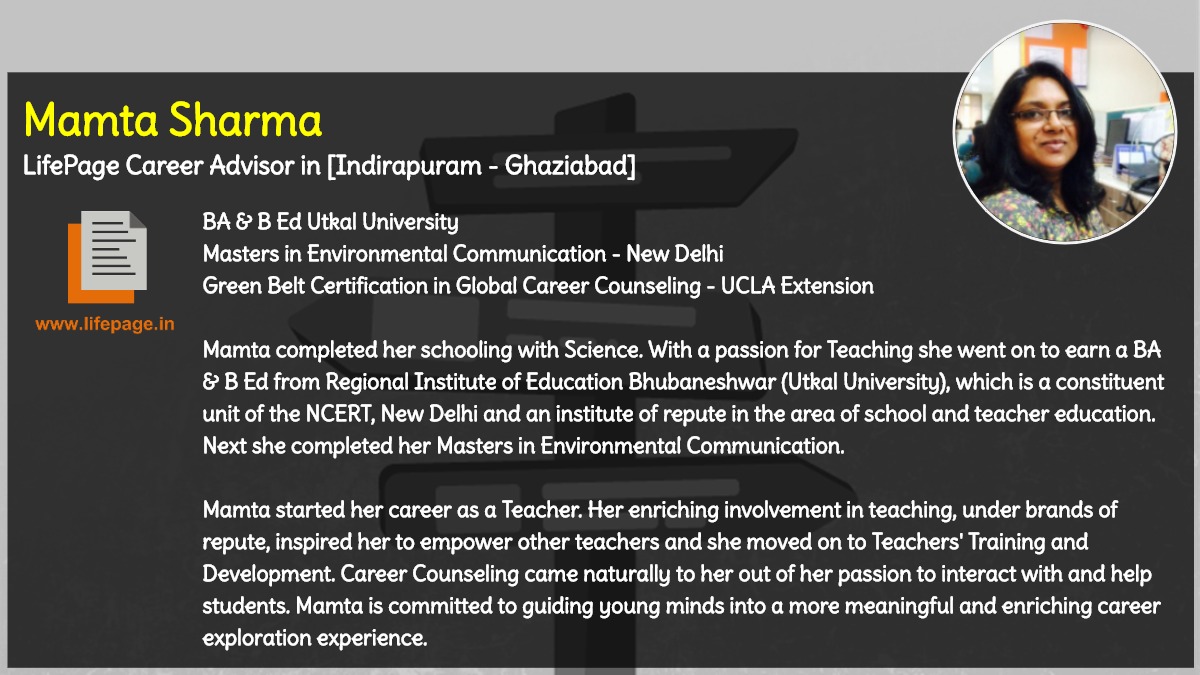 [Advisor 10 / 16 ]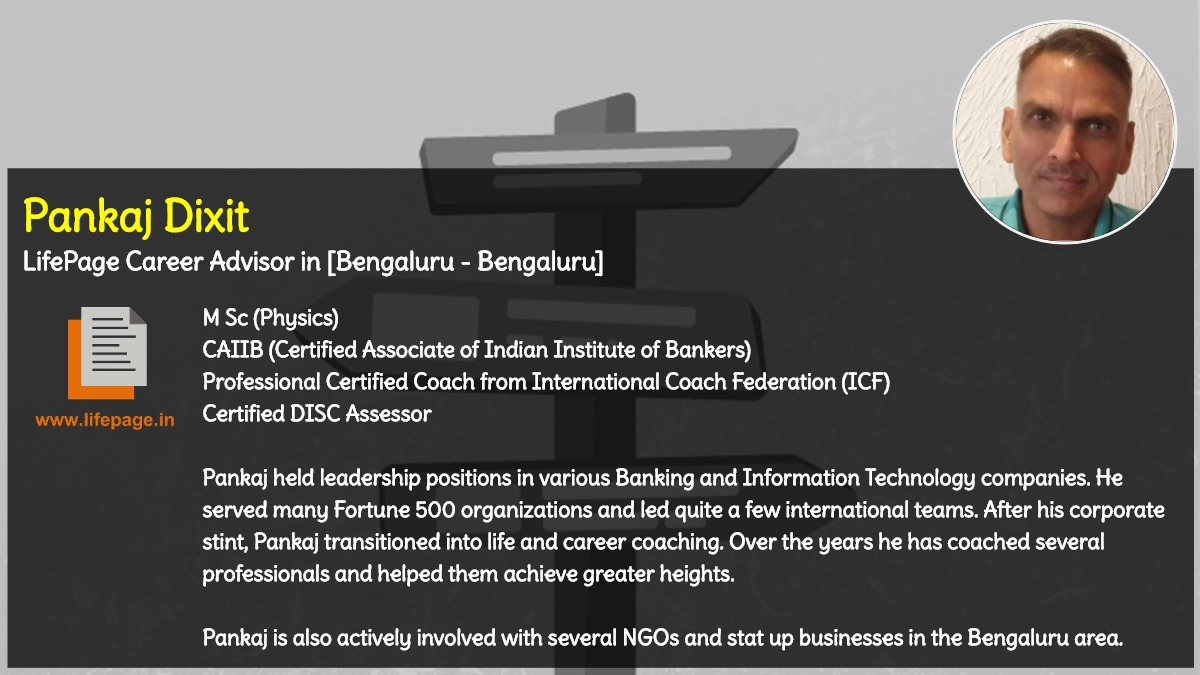 [Advisor 11 / 16 ]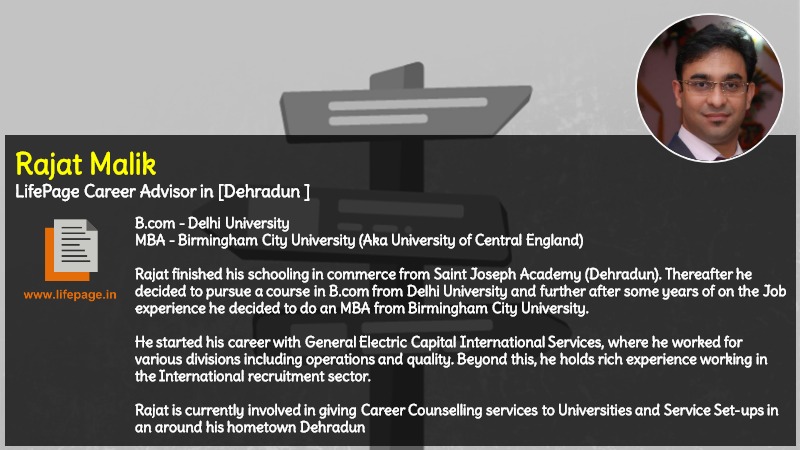 [Advisor 12 / 16 ]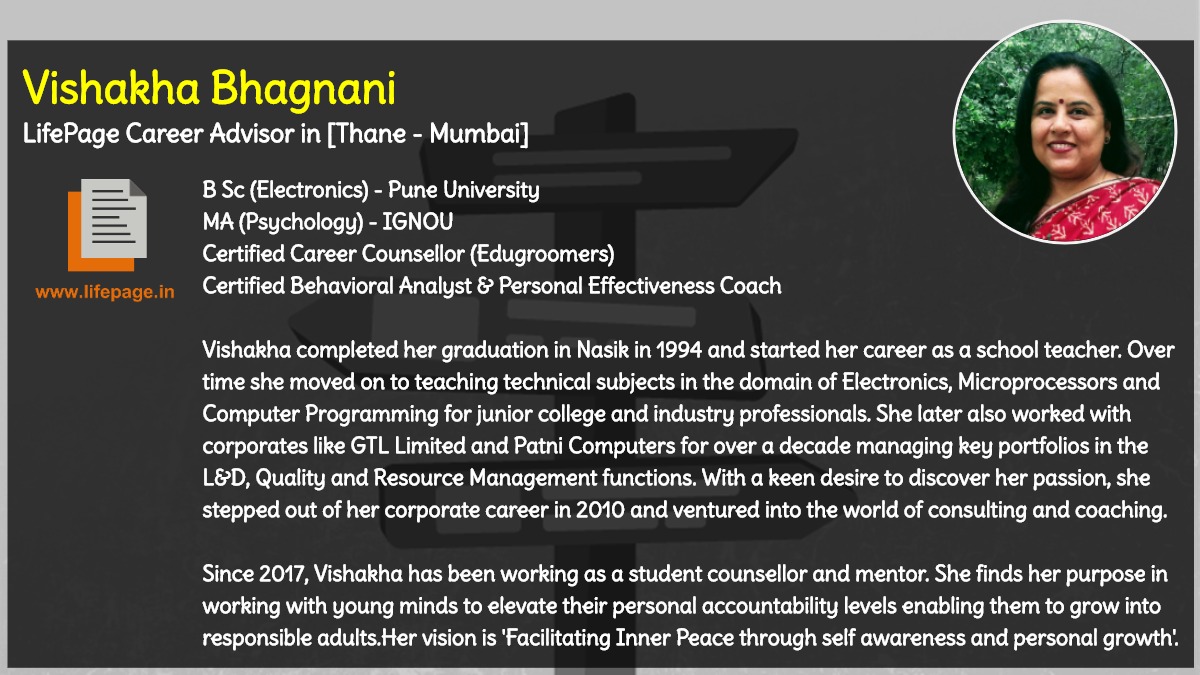 [Advisor 13 / 16 ]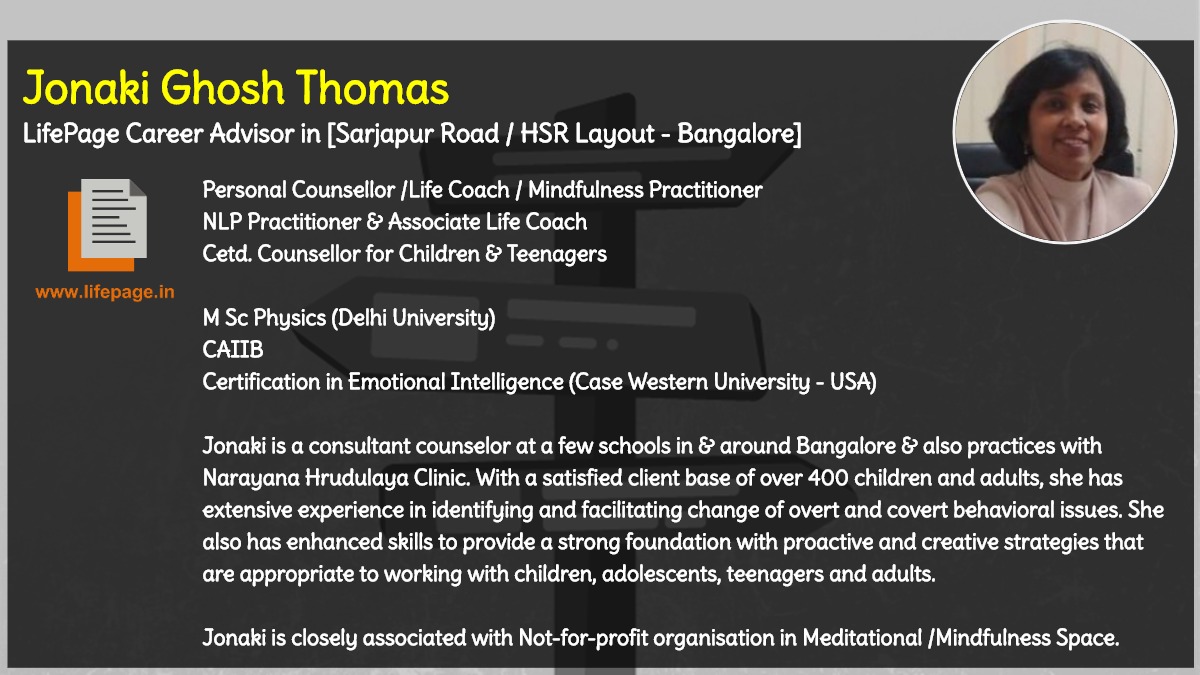 [Advisor 14 / 16 ]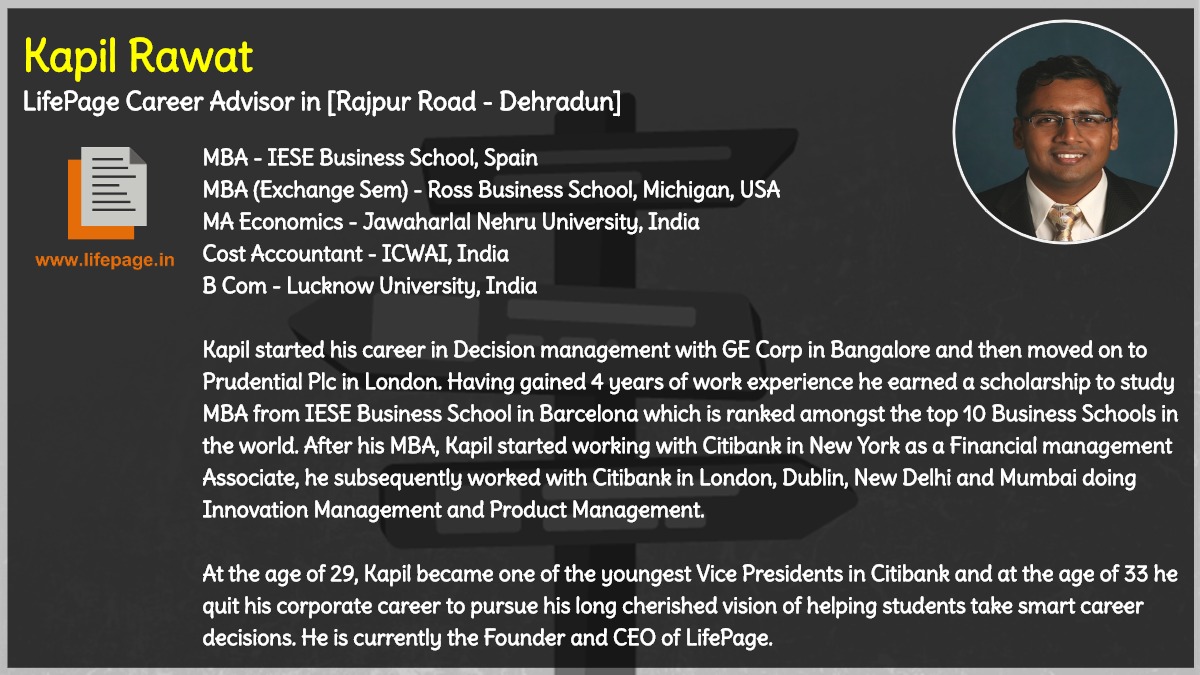 [Advisor 15 / 16 ]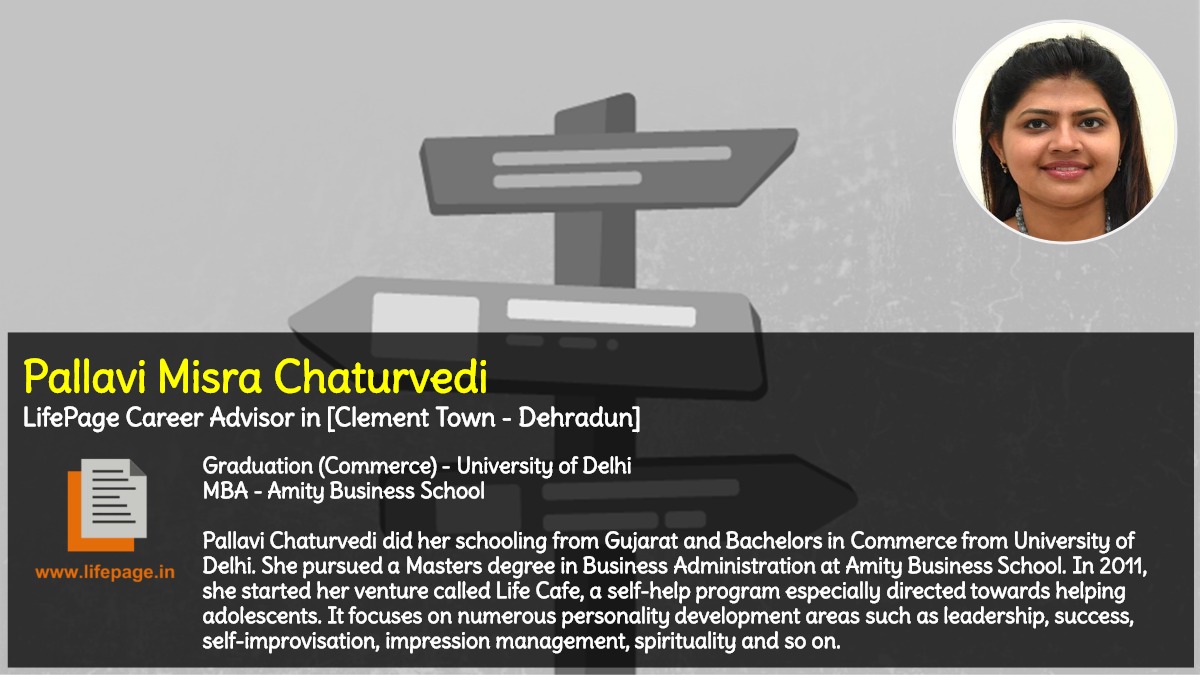 [Advisor 16 / 16 ]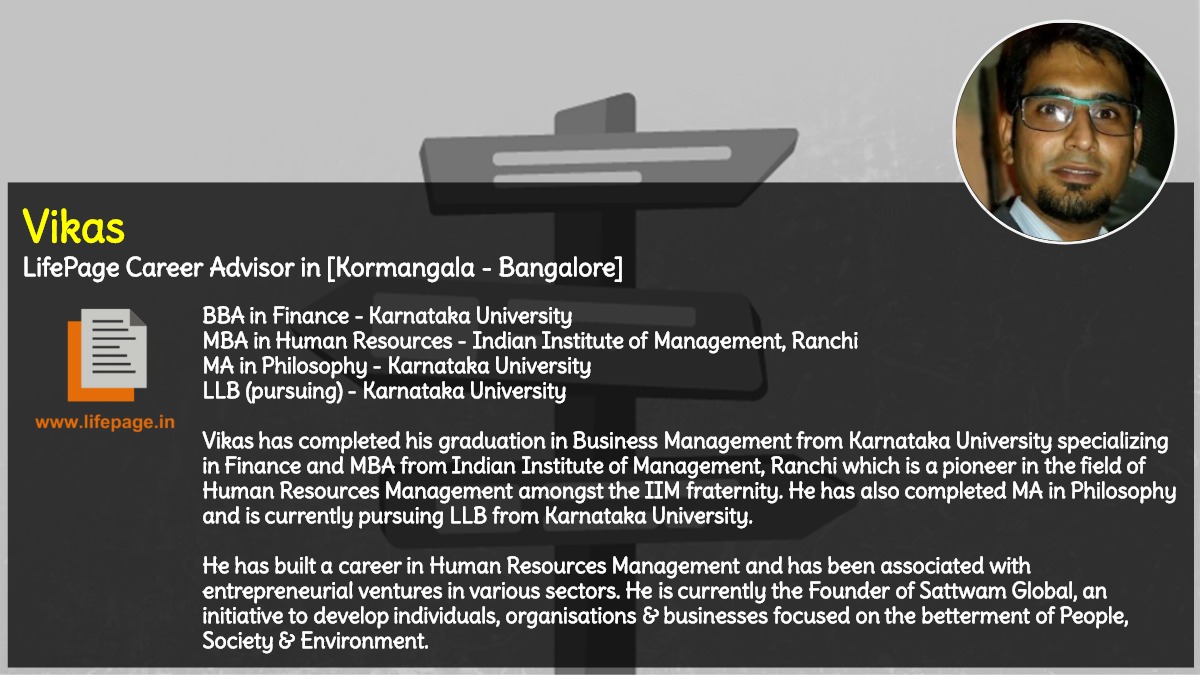 ‹
›
Start my Plan Now


Install LifePage
⇩
Register your Account
⇩
Activate your Account

My Mobile Number:

[Is Registered with LifePage]
Advisor:
Fees (₹ 6,000):
---
Next
A LifePage Career Advisor will be assigned to you and you will be given access to
ams.lifepage.in
Once finalized, your Career Plan will be emailed to you and you will be requested to rate your Advisor.
Frequently Asked Questions
1) What infrastructure do I need?
You will need a phone, a laptop and an internet connection. The Career Plan is done on the phone so you do not need any physical office space as such.


2) How much do I need to invest in training?
You will need the LifePage App (free on Android and paid on iOS) + you will need to pay for your own Career Plan which is ₹ 6,000


3) How long does it take to do a Career Plan?
As an Advisor - on an average 10 hours spread across 7 to 15 days. Around 7 hours on phone and another 3 hours on your laptop.


4) How much will I make on every Career Plan?
You will be paid out ₹ 3,500 for every Career Plan you deliver.


5) Can I make more on every Plan?
You can create your own Package at your own Price point by adding more personalized services to the LifePage Career Plan like Resume writing, personalized Counselling sessions, follow ups, Life Coaching ... The cost of using LifePage as a tool for one Career Plan is ₹ 2,500 so if you charge ₹ 10,000 for your package you make ₹ 7,500 on the package. Operationally, you collect ₹ 10,000 from the candidate. Then you deposit ₹ 6,000 to LifePage at the start of the Plan, when the Plan is made you get back ₹ 3,500. However, do bear in mind that the Career Plan will have LifePage logos and it is better to be transparent with your clients.


6) How many Career Plans will I make?
You can work on a maximum of 10 Plans in parallel. If a student picks you as an Advisor, he/she is automatically allocated to you. If a student does not state a preference, then your chances of getting the student will depend on your average rating and on your unutilized capacity.


7) How far can I go?
You can form your own team of LifePage Career Advisors, and start a Career Centre. Your recruits would need to get their own Career Plan made and be recommended by their Advisor before they can start. Once approved by LifePage, you can decide 0 - 40% payout of your team members to accrue to you.


8) Can I choose not to be listed on the LifePage website?
Sure. That is your call.


9) Can I be listed on the LifePage website and choose not to receive any clients from the common pool?
Yes.


10) Why do I have a Manager within LifePage?
The Manager will do a Quality Check on every Career Plan you make. Also, he or she will be your single point of contact for training, payouts, system issues etc.